2016 Honda CR-V vs Mazda CX-5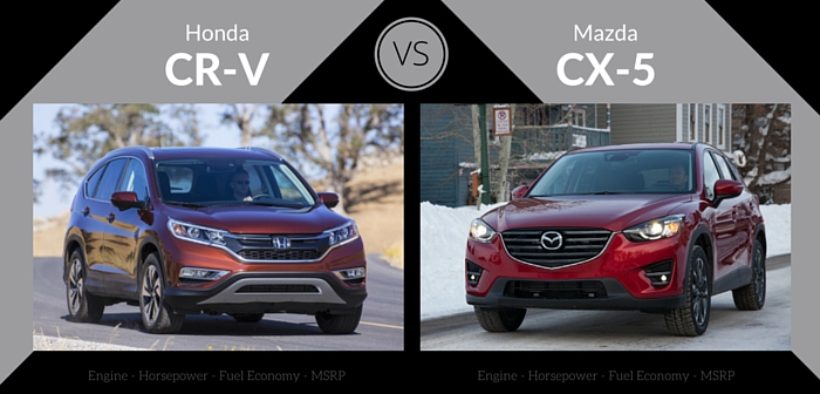 Looking for a crossover/compact SUV? Mazda and Honda are leading the class with the CX-5 and the CR-V. Want to know which one will fit you best? Today, we're comparing the 2016 Honda CR-V vs Mazda CX-5. We'll look at pricing, specs, features, design, safety, performance, efficiency, and more to help you pick the perfect crossover for you.
Honda CR-V (base)
Engine: 2.4L 4-cylinder
Horsepower: 185
Fuel Economy: 26 City / 33 Hwy
MSRP: From $23,745
2016 Honda CR-V Review
Design
The 2016 Honda CR-V features the same elegant, sleek styling from the last couple years. The grille and fascia are reminiscent of other Honda SUVs, while the hatch and back end seem almost inflated to create more interior space. This crossover is designed to appeal to the masses, and it does that well. It is stylish without being edgy or over the top with exterior sculpting.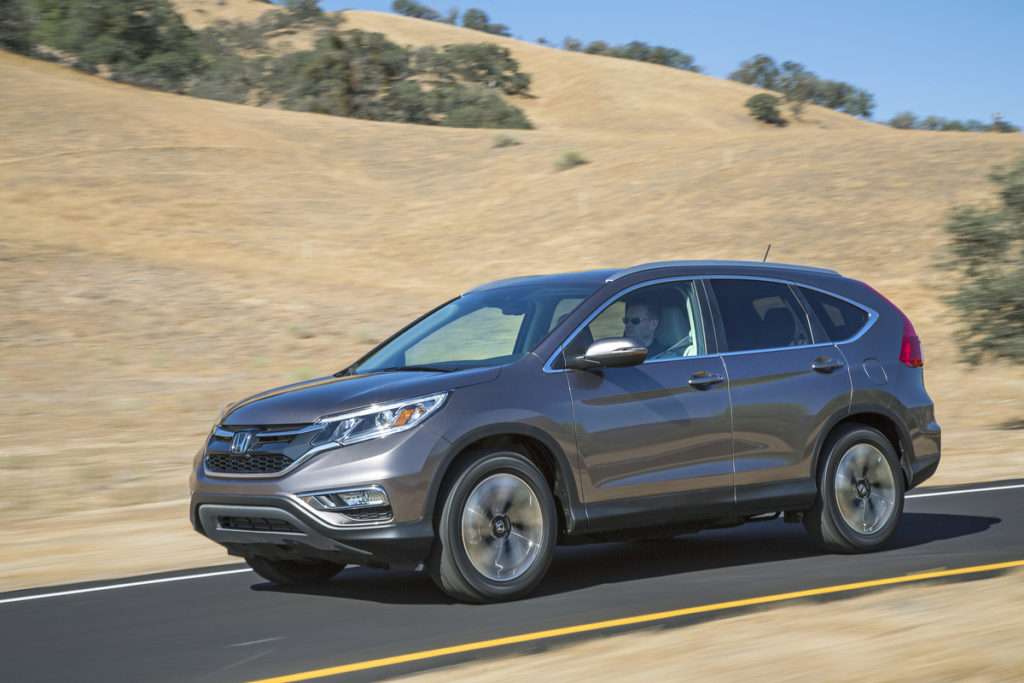 Step inside the 2016 CR-V, and you'll find a surprisingly high-quality cabin for the price point. Buttons, knobs, and gauges are laid out simply, and the design is very symmetrical. Honda refreshed the cabin in 2015, so it feels very up-to-date. Road noise suppression has been improved, creating a pleasantly quiet driving experience.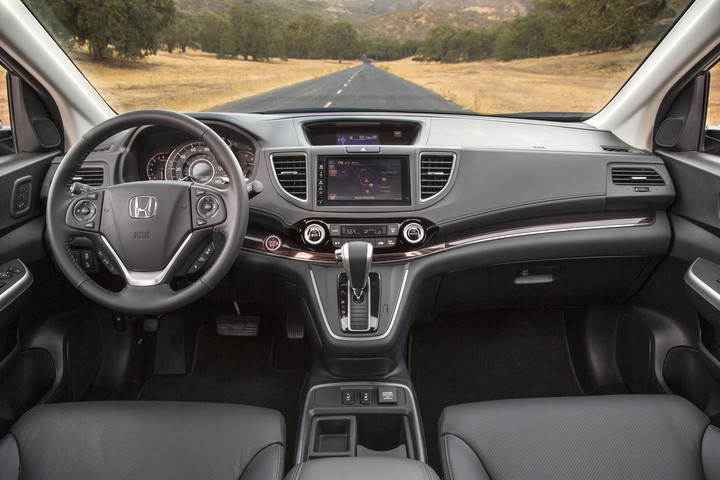 The 2016 Honda CR-V offers one of the most flexible interiors in its class. Whether hauling cargo, people, or both, the CR-V can adjust to accommodate. There is 32.7 cubic feet of cargo space behind the second row, and 70.9 cubic feet of space with back seats folded down. You can fit 4 adults, or 2 adults and 3 children comfortably in the CR-V.
Performance
The only engine available in the CR-V is a 2.4L 4-cylinder engine mated to a continuously variable transmission. Rated at 185 hp, the CR-V is not overly exciting to drive, and may feel underpowered if it's completely loaded with people or cargo. However, driving the CR-V is easy and car-like, with predictable handling and steering. AWD is available at an extra cost.
Without AWD, the CR-V will achieve around 26 mpg in the city and 33 mpg on the highway. With AWD, expect to achieve around 25 mpg city and 31 mpg highway.
Safety
This year's CR-V is one of the safest crossovers you can buy, with 5-star crash test ratings from the NHTSA and a "Top Safety Pick +" award from the IIHS. Not only is the CR-V crashworthy, it comes loaded with great safety tech.
Backup camera, 6 airbags, and stability control come standard, while Honda LaneWatch comes with every CR-V above the base LX trim. Other optional safety features include adaptive cruise control, lane-keeping assist, lane-departure warnings with steering correction, forward collision warnings, automatic braking, and more.
Features
Every 2016 CR-V comes with power accessories, Bluetooth, cruise control, USB, 12-V power outlets, and more. Upgrades include leather upholstery, keyless ignition, sunroof, an extra USB port, 10-way power adjustable seats, heated mirrors, power tailgate, navigation, dual-zone climate control, and more.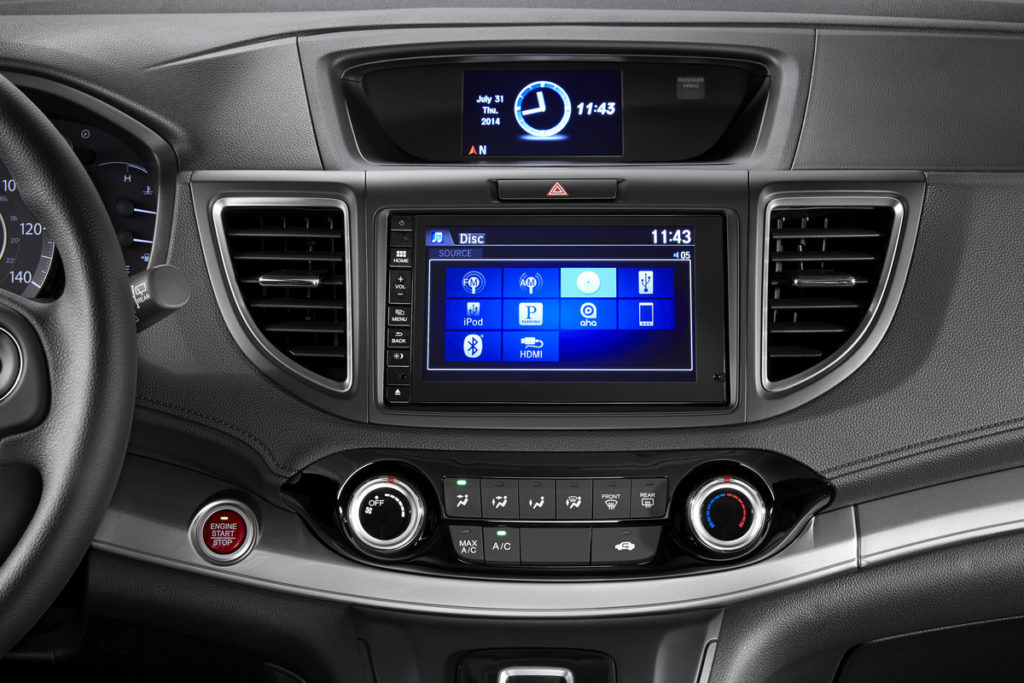 Mazda CX-5 (base)
Engine: 2.0L 4-cylinder
Horsepower: 155
Fuel Economy: 26 City / 35 Hwy
MSRP: $21,795
2016.5 Mazda CX-5 Review
Yes, you read that right. Why 2016.5? Mazda rearranged packages, added more standard features, and added a new price mid-way through 2016. They now refer to it as the 2016.5 CX-5. When we say "2016 Mazda CX-5", we are discussing the most recent, 2016.5, model.
Design
The 2016 Mazda CX-5 has a slightly refreshed design since its introduction in 2013. This year the CX-5 features Mazda's smiley-face grille, sporty KODO design, and an upright stance. Mazda made the CX-5 with a great mix of aggressiveness and elegance. It stands out of the crowd without being overly audacious.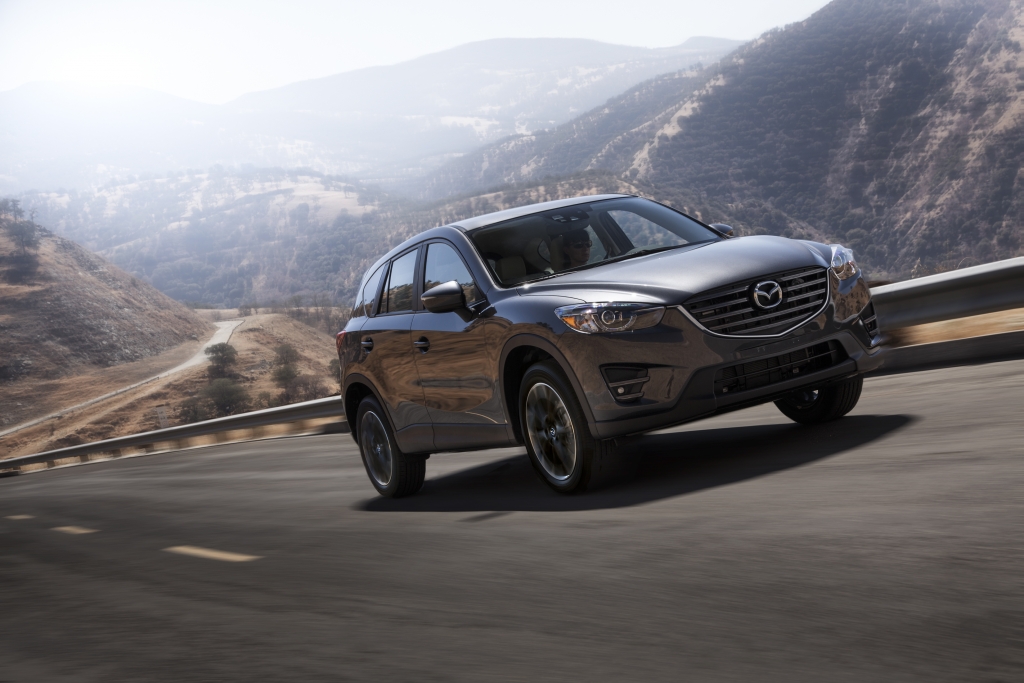 Step in the cockpit of the CX-5, and you'll find a surprisingly sober layout. While the outside is dynamic and surprising, the inside is clean and simple. Construction of surfaces, gauges, and buttons are of a higher quality than last year. An infotainment/display screen still emerges beautifully above the dash, and a control knob sits flat, just to the right of the driver's hip. The CX-5 has improved noise suppression this year, making highway drives more pleasant.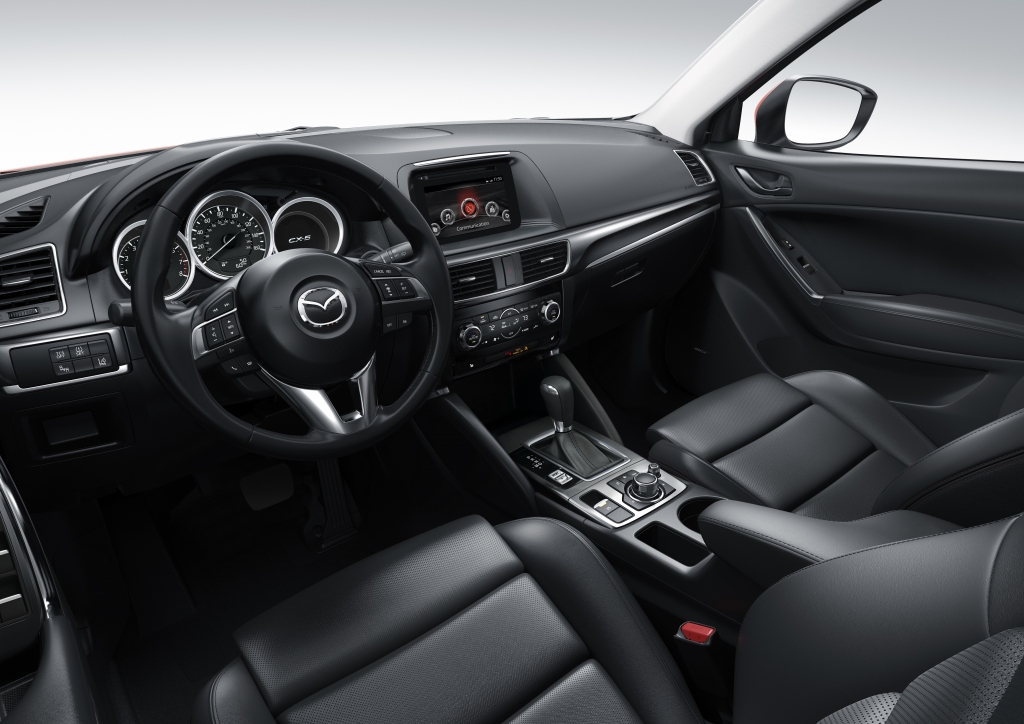 Four adults can fit comfortably in the CX-5, but there are seats for 5. Cargo space is on par for the class, with 34.1 cubic feet behind the rear seats and 64.8 cubic feet with the back seats folded flat.
Performance
The base Sport trim features a 2.0L 4-cylinder engine that produces 155 hp and still offers a manual transmission. All other trims feature a more powerful 2.5L 4-cylinder engine that makes 184 hp, mated to a 6-speed automatic. The base engine is adequate for most, but the 2.5L will significantly improve the power and fun. Handling and steering are top-notch in this crossover. The CX-5 has a firm ride and is one of the sportiest options in its class. AWD is available.
With the manual transmission and the 2.0L engine, expect as much as 35 mpg highway and 22 mpg city. All other options will achieve about 33 mpg highway and 22 mpg city. AWD decreases the highway mpg by 3.
Safety
The IIHS gives the 2016 Mazda CX-5 its top accolade, Top Safety Pick + status. The NHTSA only gives the compact SUV 4 stars. This is an unusual combination, as the IIHS can often prove more difficult. The only short-falls of the CX-5, according to the NHTSA, are "frontal crash" (4/5 stars), and "roll over" (4/5 stars).
Anti-lock brakes, stability control, traction control, and other expected safety features come on every CX-5. Optional safety features include Smart Brake Support, adaptive cruise control, adaptive front lighting, lane departure warning, collision warning, close proximity warning, backup camera, and more.
Features
Every 2016 CX-5 will receive steering wheel controls, pushbutton start, and keyless entry. Available options include 7 inch screen, leather upholstery, Bose audio, Mazda Connect infotainment, navigation, HD radio, power moon roof, heated front seats, dual-zone climate control, and more.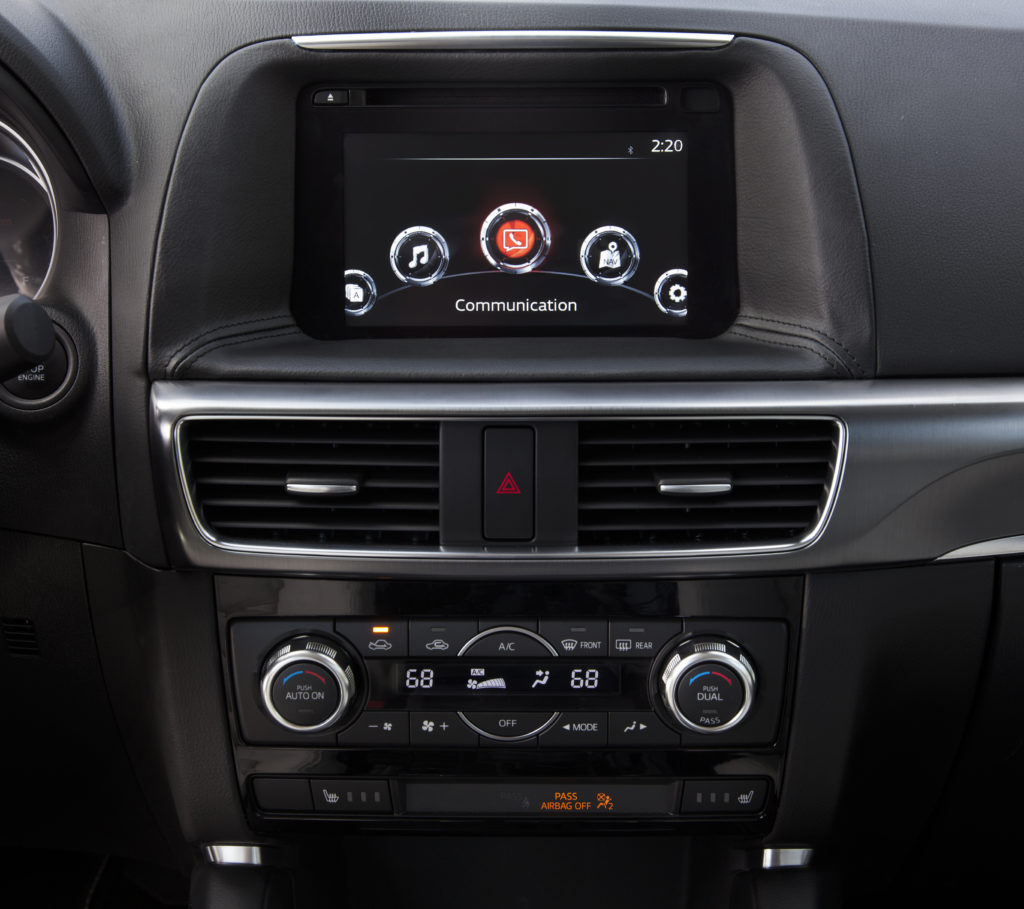 Pros and Cons
2016 Honda CR-V
Flexible, spacious interior

Record of reliability

Top-notch safety

Unexciting engine
2016 Mazda CX-5
Fun to drive

Best-in-class fuel economy

Exterior style

No standard backup camera
Imperfect NHTSA crash tests
2016 Honda CR-V vs Mazda CX-5 Conclusion
When comparing the 2016 Honda CR-V vs Mazda CX-5, you'll find only a few differences between the two. While the 2016.5 Mazda CX-5 is a blast to drive, it doesn't quite offer the cargo space available in the CR-V. The CX-5 still offers a manual transmission for purists, but it doesn't have a standard backup camera like Honda. These compact SUVs are two of the best-rated in the industry, so test-drive one today at your local dealership and let us know what you think!