Or why Mad Max: Fury Road is the greatest car movie of all time (or at least of this century).
It's a Mad, Mad, Mad, Mad World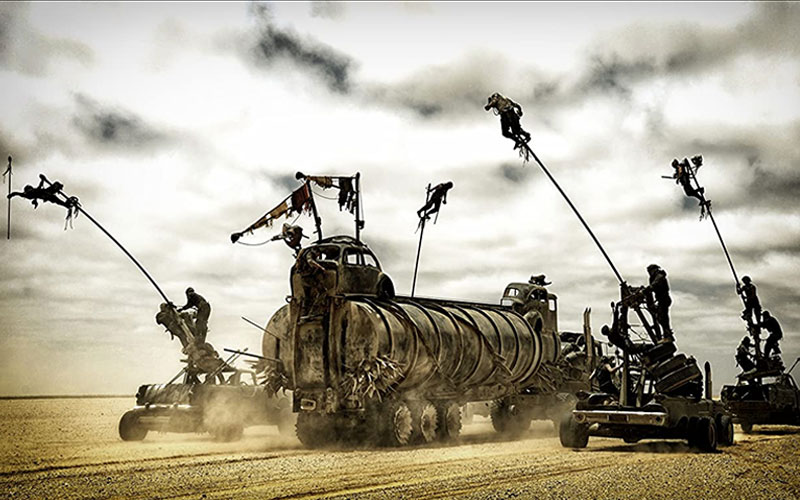 It's rare indeed that a film franchise can culminate in its best movie. But such is the case with the Mad Max series written, directed, and produced by George Miller. The fourth installment, Mad Max: Fury Road released in 2015, starring Tom Hardy and Charlize Theron, has already made our lists for best movie chase scenes and best road trip movies, and is easily the best of the Mad Max movies (sorry, Mel). But not only that, it's neck-and-neck with Ford vs. Ferrari for the best car movie of this century.
Why? Because in Mad Max: Fury Road, the car isn't just a means of conveyance, it's a means of survival. It's a home. It's salvation. Heck, the War Boys of the Citadel literally worship the V8 engine as their god. The movie is so deeply imagined, so well-wrought in its detail, and so well executed from stunt and real-life FX work to acting and directing that it transcends genre labels like "post-apocalyptic thriller" or "car movie" to become legitimately great cinema.
This past week, ten vehicles used in the filming of Mad Max: Fury Road were auctioned off by Lloyds Auctions of Australia. The lot included many of the movie's hero cars, including Furiosa's War Rig and Immortan Joe's Gigahorse along with an assortment of others from the film's 130 vehicles. The auction inspired us to give the movie's cars their own showcase. These are the Top 10 Cars of Mad Max: Fury Road.