The Battle Rages On
We knew coming into this comparison that this would be a hotly contested battle between these two excellent sedans. And, like the rest of America, we had a hard time choosing. The price is right, the tech features on par, and both offer generous powertrain options. So, our conclusions came down mostly to personality and minute details.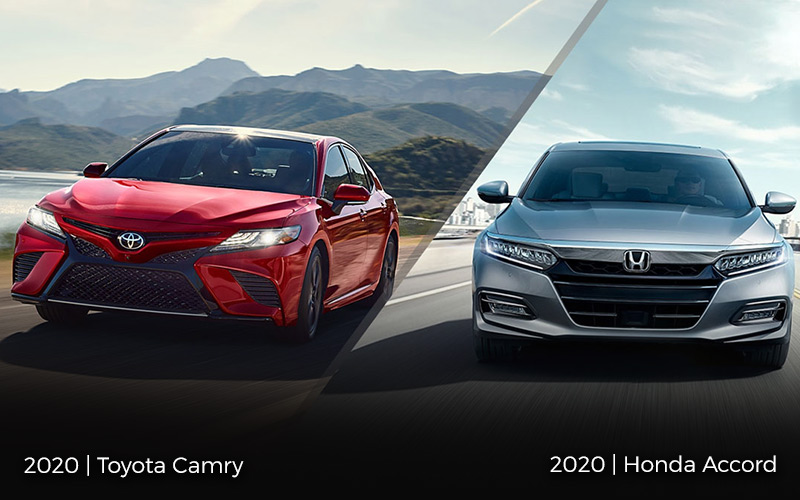 Driving the Camry around for the afternoon had me sure it wins out on personality. But while the Camry may look more the role of sports sedan, it was the Accord that best delivered that experience. The Accord's ride is smooth and quiet, even with a lead foot on the accelerator. Unless you're planning to jump all the way up to the specially tuned Camry TRD, the Accord is the better bet when it comes an affordable driver's car.
This isn't to say the Camry is a stick-in-the-mud when it comes to fun either. The superior styling of the Camry, even without the added TRD trappings, narrowly eclipses the slightly more conservative Accord.
Since the Camry TRD drops some of the best premium options, like the JBL stereo, we'd be happy settling for the better appointed XSE. And given the Camry XSE runs $5,000 less than the top trim Accord Touring, it might be the better choice if you're looking for the most car for your dollar.
However, the lower you go on the trim scale, the better choice the Accord becomes. If you've got to have the best driving of these two, go with the Accord Sport. It might not look as rad as the Camry TRD but it feels even more athletic on the road and at $5,000 less than the Toyota.
For 2020, both the Accord and Camry can claim victory in separate battles, but the war for last great sedan continues. And that's just fine by us.