Interior, Comfort, & Cargo Space
The 2021 Hyundai Elantra's dash reminded us, a little, of Mercedes' recent dashboard efforts. It looks like there's a large LED screen at first glance. Although that's not the case, Hyundai still gets style and user interface points for what's in front of the driver and passenger.
In the Elantra Limited, a 10.25-inch touchscreen is to the right above the console, and the dash flows into an attractive 10.25-inch digital instrument pod. A smaller 8.0-inch touchscreen is on the SE and SEL, which doesn't fill up the space as well. We don't understand why the lower-trim models get wireless Apple CarPlay and Android Auto and the Limited doesn't. No one seems to have an answer other than, "they're working on it." Strange.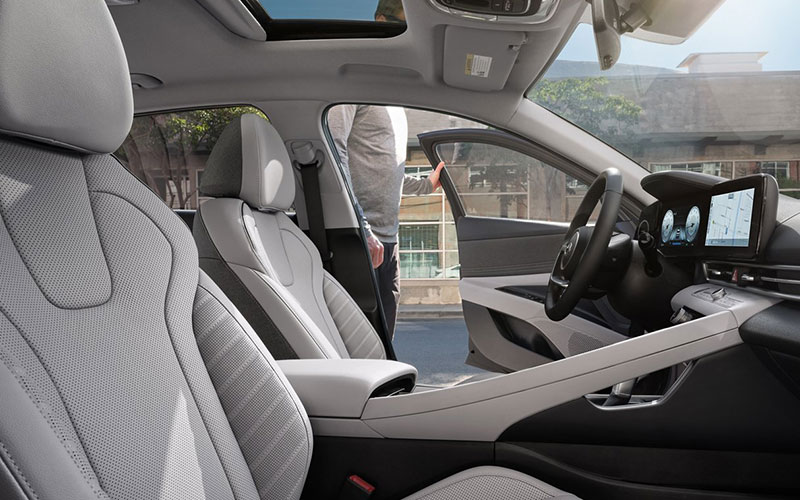 We also don't see the need for a large grab handle (it's enormous) on the center console other than making the driver cockpit more closed in. You definitely aren't going to do rally racing in this car, yet there it is. One more thing we notice is the lack of soft-touch plastics. In Toyota Corollas, the soft textures all around the cabin added a luxury feel to the Toyota, that's missing here in the Elantra. We like the design of everything, but the hard plastics on the dash and door take away from that first impression. There's work to do there.
The seats are very comfortable, and the leather upholstery is acceptable while the cloth feels high quality. The seat design is similar to what we have seen for Audi sport seats, although they didn't have the same support. Still lovely, though. And whether you're in the front or the rear, you have a lot of room. The Elantra feels more spacious than a Corolla or Civic.