Or Leave It to the Professionals
Want a new paint job for your car but don't have the "expertise" for a DIY attempt? Don't worry, there are plenty of car painting professionals around the US ready to help turn your dream into reality. Car painting professionals have years of experience under their belts and all the resources available to give your car a chef's kiss paintjob. The only issue is the "Pick Two" conundrum. You can have your car painted cheap and fast, but not well. Or you can get it painted well and cheap, but it's not going to be fast. Then you can get it painted well and fast, but… I think you see where I'm going here. Here's a couple of examples of what you can expect at different price ranges when shopping painting services.
$300 to $1000
At this price range, you'll be looking at smaller body shops. There'll be minimal prep work, probably just one color, and it'll only be sprayed in places that can be seen. Basically, you'll get a newly painted car quickly and at an affordable rate. What you sacrifice are thoroughness, like spots under the hood or in the door frames will show the old color still, and overall quality. A good example I've found is What Monsters Do's BMW E30 318i $1000 paintjob he posted on Youtube:
$1000 to $4000
This is where the quality paintjobs begin. Proper sanding, rust removal, body patch work, multiple layers, inspected surfaces, clear coats, and no spots of old paint. This is the way to go if you want a great paint job, it's just going to cost more and take longer to complete.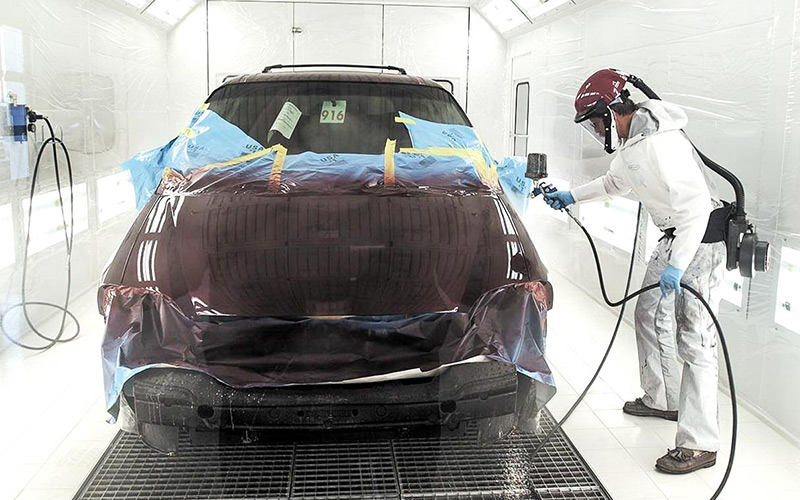 $4000 Plus (Emphasis on Plus)
If you're willing to go big on your car investment, check out some of the high-end professional paint shops around the US. They can make your dream a reality. From airbrushed murals to painstaking pin striping, they'll get you the look you want. But the options don't stop there, your paint can be pearlescent, glitter, metallic, matte; the only limit is your imagination (and your budget).
Depending on the options you choose, the wait time on your car could be a month or more. However, if you're fine with just a single color the whole process can be a lot quicker. Some of the best shops bake the paintjobs in an industrial oven which helps the paint to dry and cure much more quickly than cheaper shops who simply air dry. Just be sure to get your estimate beforehand, custom paintjobs in one of these shops can easily reach into the $20,000 range.