States Requiring Periodic Vehicle Emissions Testing
Each state possesses its own unique standards and processes for emissions testing. There are multiple states where these regulations apply only to the most densely populated urban areas. Missouri, for example, only requires emissions inspections for those living in the St. Louis Metropolitan Area. This pattern of exemption also pertains to certain vehicle classes. Antique vehicles are not required to pass an emissions test, as they were built before cleaner, more efficient engines were made. Most new vehicles are also exempt from testing, as manufacturers are now inherently required to meet current standards before pushing out a new model.
Be sure to check with your state's emissions testing facilities if you've moved recently to ensure your vehicle is ready for inspection.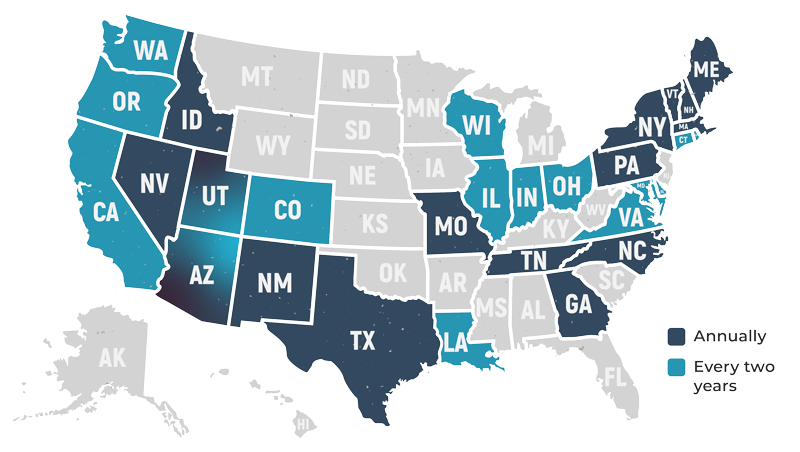 The list below is subject to change at any time. Emissions regulations shift frequently. The best source for information regarding your specific testing requirements will be from your state's DMV or DOT website.
Arizona
Annually or every two years, depending on vehicle make and model
California
Every two years
Six counties are exempt
Colorado
Every two years
Last seven year models are exempt
Connecticut
Delaware
Georgia
Idaho
Annually
Only citizens of Ada and Canyon counties, and the city of Kuna
Illinois
Indiana
Lake and Porter counties only
Every two years
Louisiana
Maine
Annually
Take note that Maine does not allow any extensions or waivers for emissions testing
Maryland
Massachusetts
Missouri
Nevada
New Hampshire
New Jersey
New Mexico
New York
North Carolina
Annually, but only in 48 specified counties (visit NC DMV website for full list)
Ohio
Oregon
Every two years for residents in the Portland and Medford areas
Pennsylvania
Rhode Island
Every two years with registration
Tennessee
Annually for residents in the following counties: Davidson, Shelby, Hamilton, Rutherford, Sumner, Williamson, Wilson
Texas
Annually for residents in the following areas/counties: Austin-Round Rock, Houston-Galveston-Brazoria, Dallas-Fort Worth, El Paso
Utah
Every two years for vehicles less than six years old
Annually for vehicles older than six years
Vermont
Virginia
Washington
Wisconsin
Note that not all states offer exemptions or waivers, but for those that do, some trucks, antique vehicles, and hybrid vehicles may be exempt. Check with your local emissions testing organization to learn more.