Comfort

: Can't Get More Jeep Than This, For Good or Ill
Comfort?! In a Jeep?! Sure, Jeeps are marketed as semi-serious off-road capable vehicles, a rough ride would seem priced in. But the Gladiator is a modern machine and while it's no luxury sedan there is an expectation that it won't be jarring your fillings loose either. Indeed, the Gladiator's highway ride is smooth enough, but, as noted above, its off-road where you get the most bang-for-your-buck. On unpaved roads the Gladiator smooths out bumps and dips well, even at relatively low speeds.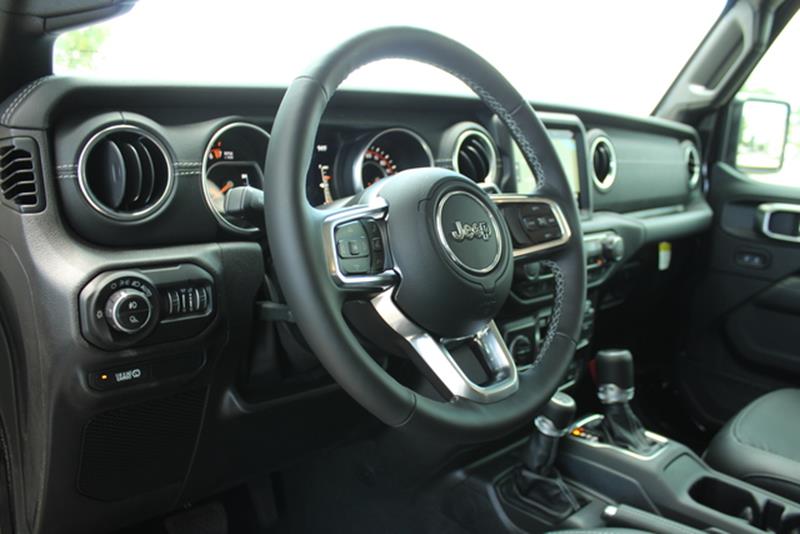 The 2020 Jeep Gladiator borrows nearly all of its dash components from the Wrangler for its interior trim. And like the Wrangler, the Gladiator plants the dash and instrument panels up close. The high, upright driving position also feels distinctly Jeep-like. The quality of materials in the Gladiator are nice, a hair above those of the Ranger or Colorado.
While not as cushy as the Ranger's front seats the Gladiator isn't bad either and are available with heating and cooling options. The rear seats are actually roomier than the competition, thanks in part to the long wheelbase. You can put a six-foot passenger behind a six-foot driver without either having to compromise on leg room.
One thing you won't be getting in your Gladiator are power seats. Since Jeep assumes, rightly, that you'll want to be fording up to 30 inches of water, they made sure you won't have to worry about soaking your gear in the process. The push button start is waterproofed, in case you were wondering.
I mention these considerations because they align with the Gladiator's overall design philosophy: be ready to tackle (almost) anything and look good doing it. See exhibit one, the removable roof and doors and the fold down windshield. Just try driving the Gladiator topless without the wind plastering a huge grin across your face. It simply cannot be done. You also can't do this in either the Colorado, Tacoma, or Ranger.