Medium Breeds (45lbs to 80lbs)
Not all dogs can fit into dog car seats, but thankfully dog seatbelt buckles and dog ziplines are there for larger dogs. These safety accessories are made for slightly larger dog breeds and work in anything from a Ford Fusion to a Chevrolet Suburban. If your furry friend is super active and loves car rides, like my dog, these options provide enough ability to move to either rear window while also keeping the dog secure.
Dog Seatbelt Buckles
Dog seatbelt buckle accessories work like normal seatbelts do and are designed to work with a dog harness. Setup is easy, just click the seatbelt accessory into the buckle receiver and attach the carabiner to the dog's harness. With this set up dogs have access to the window and the ability lay, sit, stand, or walk while being secured to the seat. The dog seatbelt buckle works perfect in any vehicle, but I personally find it better for sedans. Be sure to check out the Kurgo Leash to Seatbelt Buckle as an excellent option for dog seatbelt buckles.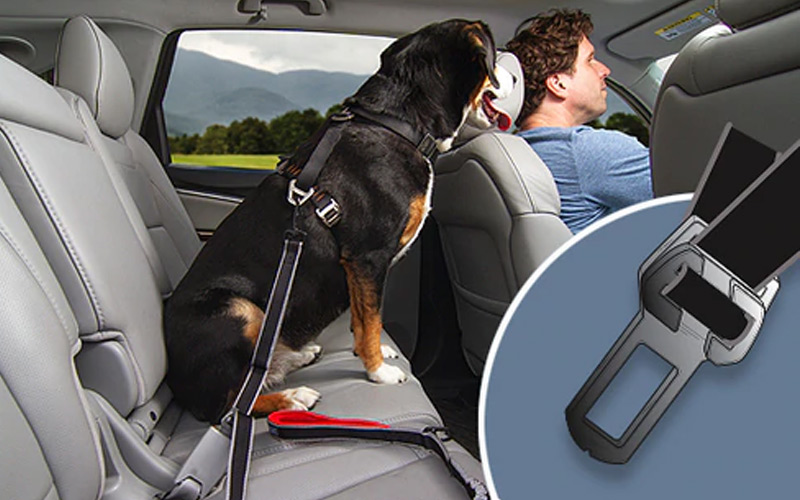 Dog Ziplines
Dog ziplines are similar to the dog seatbelt buckle, but they offer a little more movement for the dog. Ziplines attach to either both rear seatbelts or both rear grab handles. They have a sliding piece along the line that attaches with the use of a carabiner to their harness. The dog zipline accessory allows the dog to move to either rear windows of the car while keeping them safely inside. If your dog is anything like mine, they love to see what's happening all around them and this product is perfect for that. I use the Petsafe Happy Ride Dog Zipline and my dog loves it.