Electric trucks are soon to hit the market in 2020. Here's what to expect (and question) before they go into production.
Great minds think alike and that's exactly what some of the biggest brands have done. Ford, Rivian, Tesla, Atlis, and more are developing the first of their kind electric trucks to hit the market soon. But what's the big deal with electric trucks anyway?
We're taking you through all the ins and outs of electric vehicles to help you better understand why electric trucks are all the rage while breaking down the latest and greatest in electric truck news.
Electric Trucks: Driving with Utility & Efficiency in Mind
Electric trucks aren't exactly the top of mind for most truck drivers. The need for a utility truck usually outweighs the benefits for the environment as fuel efficiency and power don't cooperate in gas-powered vehicles. But that's all about to change.
Electric trucks will provide drivers with the same utility capability, if not more, than traditional gas-powered vehicles. Not only will they provide strength, power, and durability, these vehicles are being tested for long-range trips to match other electric cars on the market. So, how does an electric truck work and why are these innovations changing the truck industry as a whole?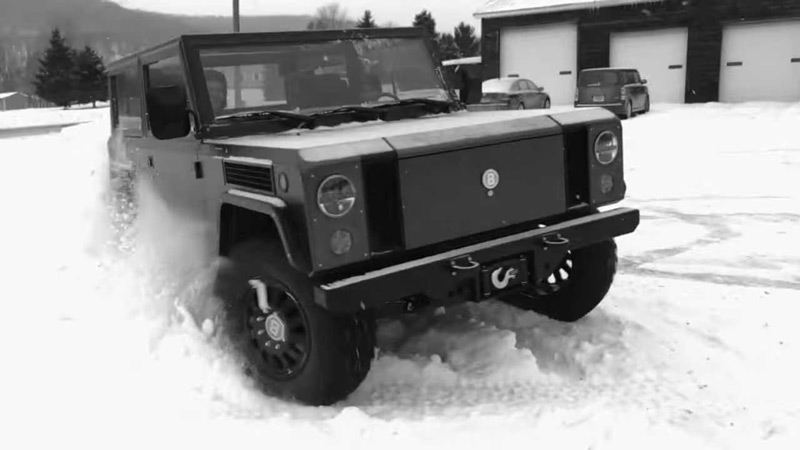 More Power Than Ever Before
Tesla was one of the first to realize the potential of electric motors and torque. Torque is what gives your car the get-up-and-go you need to reach speeds faster. Electric vehicles start at their peak torque and slowly decrease as they reach their top speed. This allows drivers to get up to speed quicker, which is handy when merging into oncoming traffic on the freeway.
But more importantly, the torque in electric vehicles makes it easier for the truck to carry heavier loads. When traversing over mountain roads or going up a hill in the backcountry, electric trucks will be able to haul more without redlining the RPMs past no return. This is extremely important for those who want a utility vehicle that can carry heavy loads to worksites or pull trailers behind them.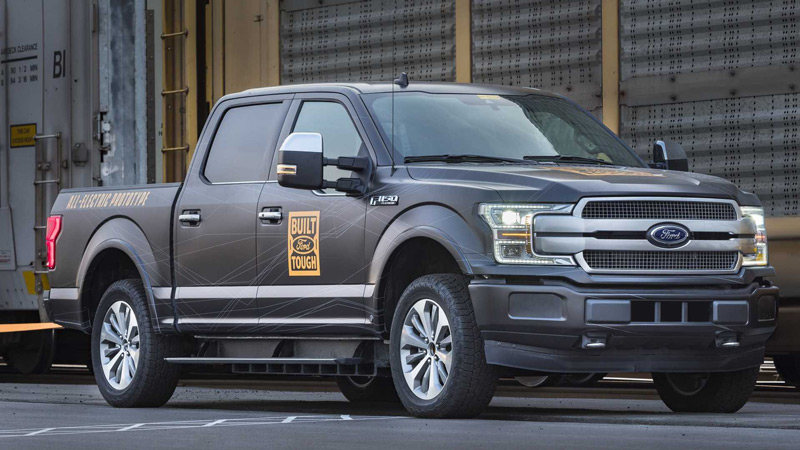 Beyond utilitarian purposes, the high low-end torque that electric trucks aim at achieving will make off-roading fun and easy. The ability to power through tough spots in difficult terrain is more important than speed, which makes electric trucks a great choice for roughing it in the backcountry.
Overall, an electric truck, despite bearing a heavy price tag, could be the solution for efficient, affordable truck driving. Adoption of electric trucks has been slow due to skepticism of their capabilities, but as time has gone on, manufacturers and drivers can no longer ignore that electric motors don't mean less strength, power, or capability.
The Electric Truck Contenders
An electric truck isn't a new idea, but it's an innovative one. These car manufacturers put their teams to work to meet the market where it's changing in order to get ahead. Let's see what manufacturers are claiming about their concepts of an electric truck.
The F-150: More Than You Need, But Exactly What You Want
The F-150 is already one of the most capable trucks on the market, but to hop on the electric truck trend Ford is innovating its F-150 to stay relevant. If you haven't seen it by now, Ford debuted their electric concept in a quick video showcasing that the all-electric F-150 could literally pull an entire train. That about speaks for itself, right?
Though there aren't any specs available for the fully electric F-150 yet, those who are looking for an affordable electric truck option are sitting on the edge of their seats.
Rivian + Adventure: A Love Story
Rivian's electric truck concept, the R1T, is a dream come true for outdoor-lovers and off-road drivers. This truck is one of the most unique electric truck concepts that should be meeting the road in 2020. Made to roam 400+ miles in one charge the R1T is promising for those looking for adventure far and wide. Drivers will also have the capability to tow up to 11,000 lbs. and wade through 3 feet of water which makes it ideal for toy hauling or traversing Mother Nature's wildest places. The speed and power aren't too shabby either, hitting 0-60 in 3 seconds with 750 horsepower.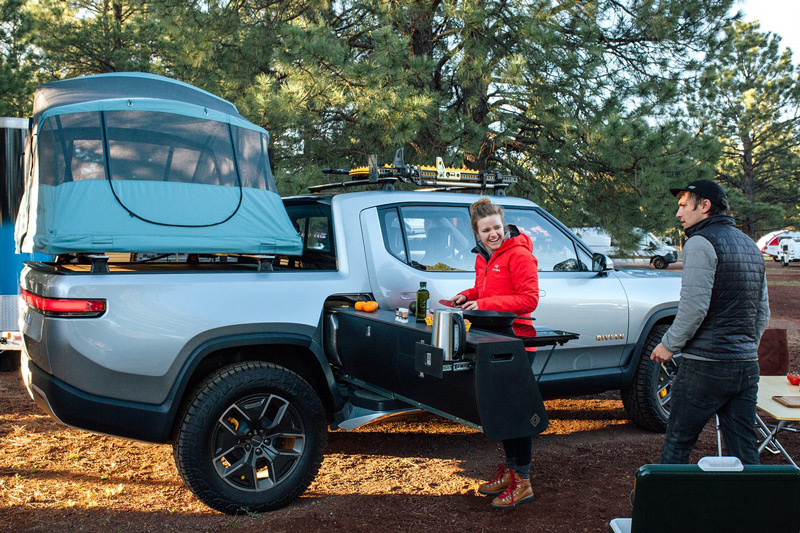 Rivian's R1T is a top contender in the market as it delivers on both city and backcountry driving, features amenities, and focuses on how useful each aspect of the truck is to its passengers. Rivian's design process seems like it will yield high rewards for both the drivers and the company, which is a win-win for all.
See all the R1T details here:
Tesla Truck: The Elusive Unicorn
We all know that Tesla made electric vehicles what they are today, but we're not entirely sold on their concept of a Tesla truck. Elon Musk has finally stepped up to the plate to discuss some specifics about a Tesla truck after showing off a vague exterior concept earlier this summer. Musk made comments about the superior strength and power of the concept that left many skeptics scratching their heads.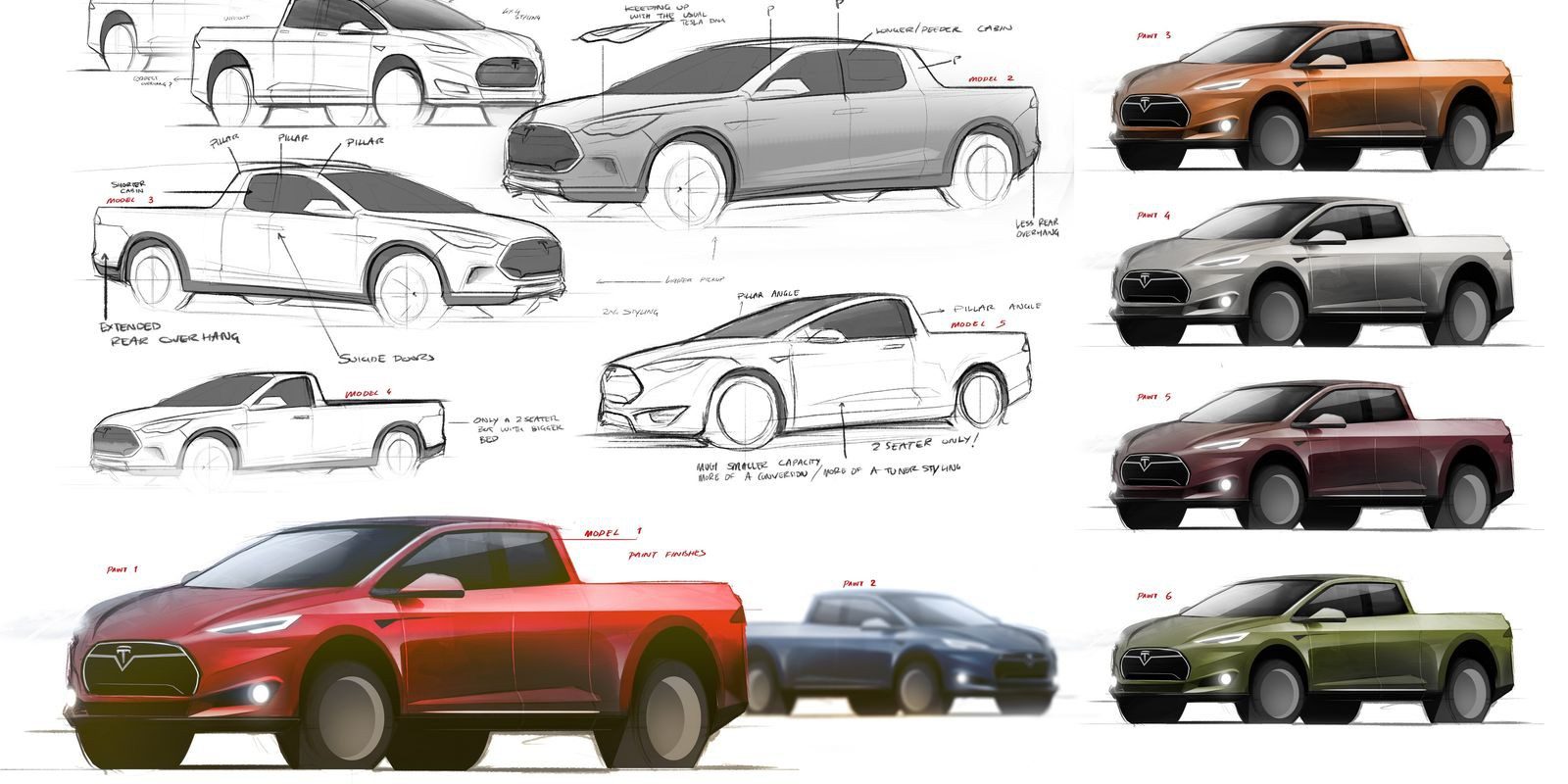 According to Musk, the Tesla truck "will be a better truck than an F-150″ and "be a better sports car than the standard [Porsche] 911." Though that doesn't give any real value to the vehicle other than his inspiration, many believe he can accomplish it, while others are not entirely sure.
Will the Tesla truck live up to the hype? See what we think here.
Atlis: Not in First or Last
The Atlis electric truck has been a concept for a while, but as other competitors have brought their concepts to the public, Atlis has been chipping away at their initial offerings to create a real prototype. Releasing in 2020, the Atlis truck looks as futuristic as you'd expect and delivers on high-tech features around every corner.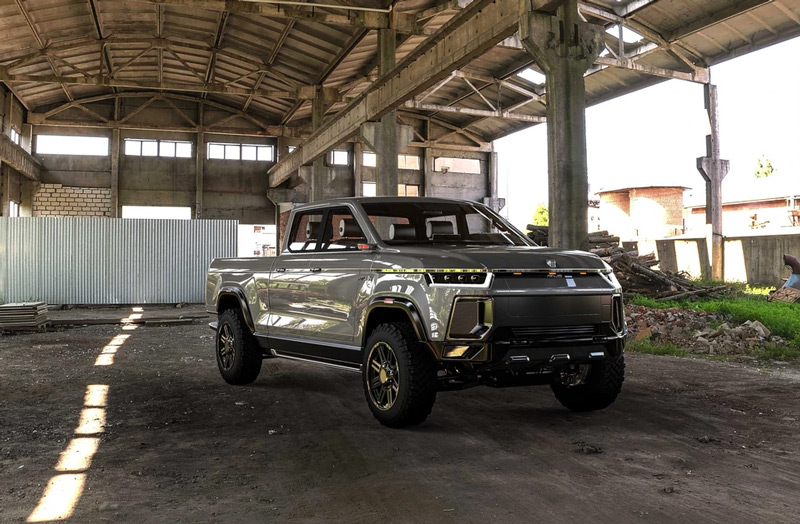 Those in the EV space have been skeptical of Atlis for some time as they made a statement around charging times that didn't sit well with experts. Originally the Atlis was supposed to charge fully in a little over 12 minutes, but as time has gone by and the prototype has been tested, the supercharging feature clocks in around 15 minutes instead. Though not too far from the original concept, some have been put off by it.
To make up for their overstep in charging time, the Atlis prototype has a towing capacity of up to 35,000 lbs., which far outdoes the infamous F-150 and its counterparts. The speed doesn't quite match up with others, but 0-60 in 5 seconds isn't the worst it could do either.
Atlis is still a main contender for the top electric truck, but many are awaiting more details on the price to see where the dice fall.
Bollinger: The SUT
In 2017, Bollinger Motors debuted its electric B1 and B2 concepts. These concepts are much like the Land Rover Defender and Ford Bronco we know and love, but with an all-electric twist. The square-body style and high clearance make this SUT, sports utility truck, the ultimate truck for work and play. The only thing not going for the B1 and B2 is its range, but Bollinger Motors CEO believes that most B-model drivers will be using the vehicles for its utilities, rather than for long road trips across the country.
For more information on Bollinger's B-Models, check out this video:
Who Will Take the Electric Truck Trophy?
This might seem cheesy, but we all will! With all the innovations being made with electric trucks, drivers and auto manufacturers will see the benefits of switching to an EV model. As emissions standards continue to rise, auto companies are looking for ways to meet regulations and still serve their markets. Thankfully, truck drivers won't be left behind in the next few decades as the companies listed above have pushed forward to experiment, develop, and produce the world's first electric trucks.
What do you think about electric trucks? Would you own one and which one would you pick? Let us know in the comments below!