Interior, Comfort, & Cargo Space
We're fans of the Equinox interior. Most models will have the contrasting gray colored door panel and dash, which helped bring out the interior's flowing lines. It showed us that an inexpensive SUV can still be attractive.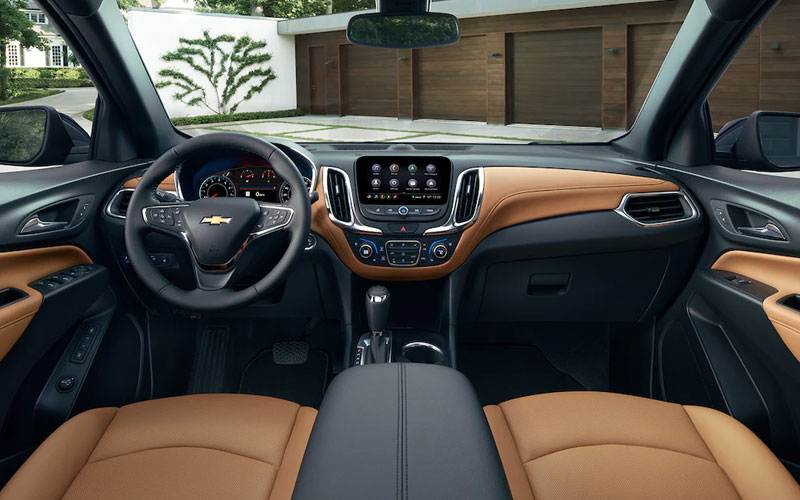 And while we're on the design subject, we appreciated the buttons and knobs for volume and AC controls. And although the responsive 7-inch or 8-inch infotainment screen isn't the size of an iPad, it fits well in the Equinox interior. You'll have easy access to Apple CarPlay and Android Auto. Plus, should you want it, there's an available wireless phone charging pad in the console. This is an excellent spot to make a note of the backup camera. Chevy does a good job with the 360 overhead views and HD quality of the image. Bravo.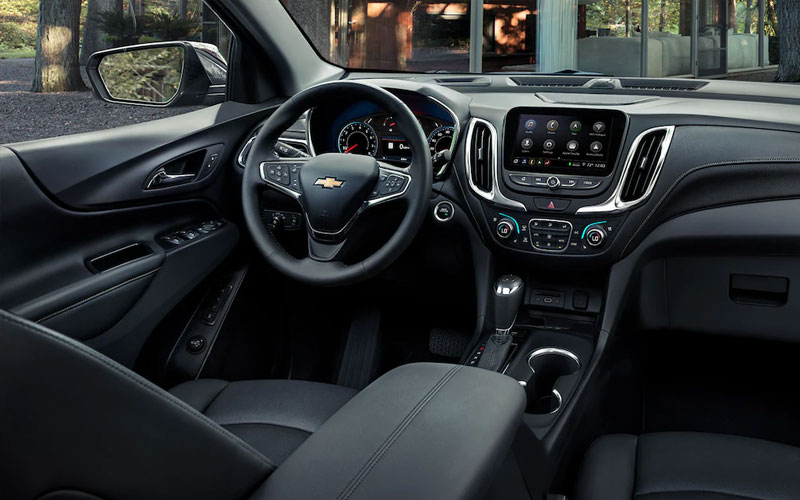 The 2021 Chevrolet Equinox has optional leather seating surfaces, but you'll appreciate Chevy's standard cloth material too. Cloth seats won't feel hot after sitting in the sun and the quality is excellent.
Passengers in the 60/40 back row can have optional heated reclinable seats and a rear-seat infotainment system. Taller passengers will find themselves brushing the front seatback pocket, but we think the seating position is comfortable. Kids would have more than enough space, and two car seats would fit fine.
Cargo capacity is adequate. By collapsing the rear seats, you get 63.9 cubic feet of storage, which is 4 inches more than the Kia Sportage. By contrast, the Honda CR-V seems massive with its 75.8 cubic feet, but it doesn't have a large underfloor storage area. That storage area looks like a perfect place to place grocery bags, so they don't slide around.