Since you were a kid, mom always told you to get out of that mud puddle. Now you're grown, with a gnarly 4×4 and a hankering for some dirty fun. Come along to the bog and go mudding, off-roading at its messiest.
Mudding: Making the Best of a Messy Situation
In South Dakota, my neck of the woods, you deal with all manner of extreme weather. Temperatures swing wildly, roads get flooded, iced over, blocked by five-foot snowdrifts. You take this in stride. You get used to driving carefully and calmly through hellacious thunderstorms and whiteout blizzards. And all this wild weather ends up as good practice for when things settle down enough to have some fun on four wheels. Having already mastered muddy dirt roads just to get from A to B, the motorsport of mudding (or mud bogging as it's known in these parts) just comes naturally.
What is Mudding?
Mudding, mud bogging, or mud racing involves taking a 4×4 vehicle, often specially modified to the task, and racing it through muddy terrain. These can be "bogs" or shallow depressions that gather moisture, low lying dirt roads that turn muddy in wet conditions, or dedicated mud tracks created for the purpose of mud racing (not uncommon at rural racetracks and fairgrounds). Typically, mudding races are run for time, though if the mud proves too difficult total distance traveled determines the winner.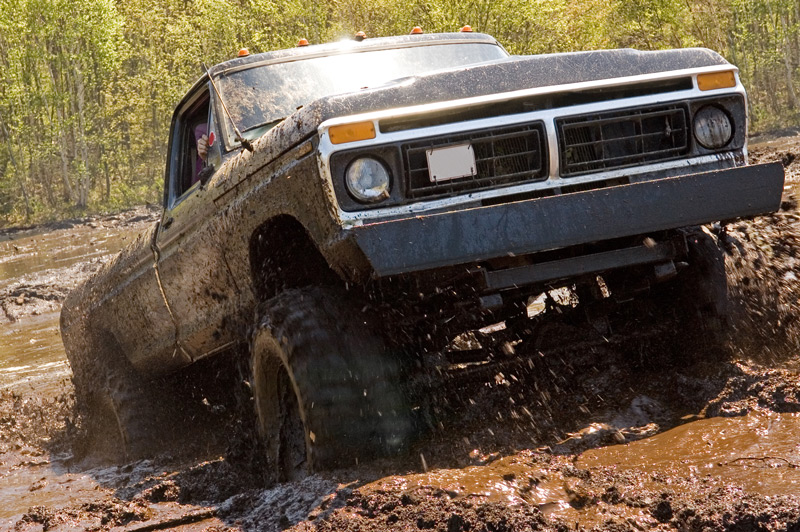 What attracts people to this be-splattered niche of off-roading? Here's my theory: Momma always told you to quit stomping around in that mud puddle. Mudding means finally asserting your independence by reveling in the muck and mire you've always been told to avoid. Mudding says, forget staying clean and just floor it.
Outdoor/4×4 festivals and events are held all over the country where folks congregate to collectively celebrate the timeless combination of horsepower and rugged terrain. These festivals carry names like the Mid-Michigan Mud Fest, the Crooked Creek Mud Bogg, and the Perkins Spring Sling. There are different classes for the size of engine and tires used as well as mud racing events for ATVs and motorcycles.