Preparing to Change Your Car's Brake Pads
Similar to the process of building a product from IKEA, getting all your tools and supplies in order is essential. We can tell you, from experience, the last thing you want is to be half-way through a brake job and realize you don't have a 10mm socket.
1. Gather your Tools and Supplies
Hydraulic Jack
Jack Stands
Wooden block
Gloves
3/8″ Ratchet
1/2″ Ratchet
1/2″ Breaker Bar
3/8″ extensions
3/8″ Sockets
1/2″ Sockets
Open-ended/box wrenches
Torx sockets
Reverse Torx sockets
C-Clamp
Brake Cleaner
Pry Bar
Wire Brush
2. Buy Your Brake Pads And Rotors
When you look for brake pads, you'll have multiple options. Pads will come in ceramic, organic, and metallic forms. Depending on your needs, ceramic brake pads may be the best option. Here's a quick look at brake pad options: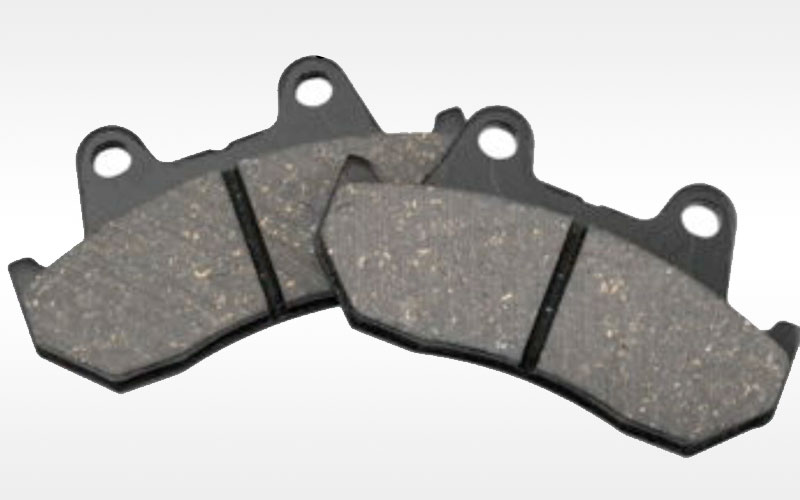 Organic Brake Pads
These will come standard on most vehicles that are sold in the US. The "organic" designation comes from the materials used in the pad composition. Although there's not a standard, you'll find pads made from a combination of Kevlar, carbon, fiberglass, and rubber that's held together with a resin compound. These pads are very reasonable in price and won't produce dust like metallic pads that dirty up your wheels.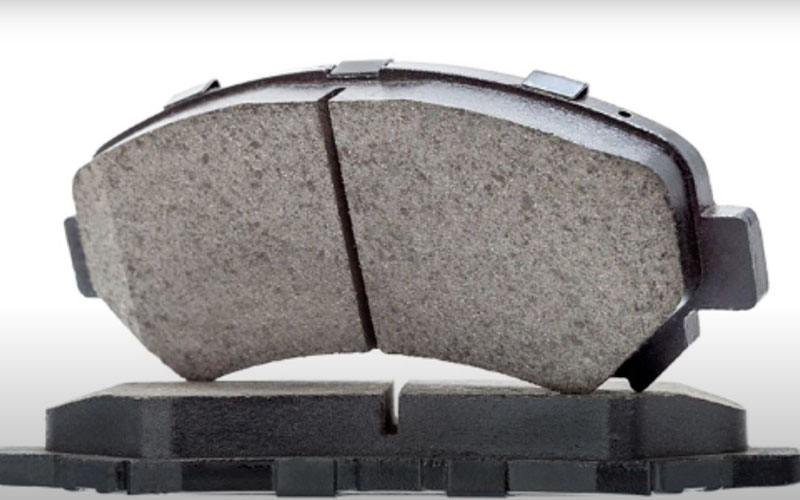 Ceramic Brake Pads
Made from ceramic similar to what is used to make pottery, ceramic brake pads also have fine copper fibers embedded within them to increase their friction and heat conductivity. They create no sound when the brakes are applied, produce less dust and other particles over time as they wear down, and are reliable in a wide range of temperatures.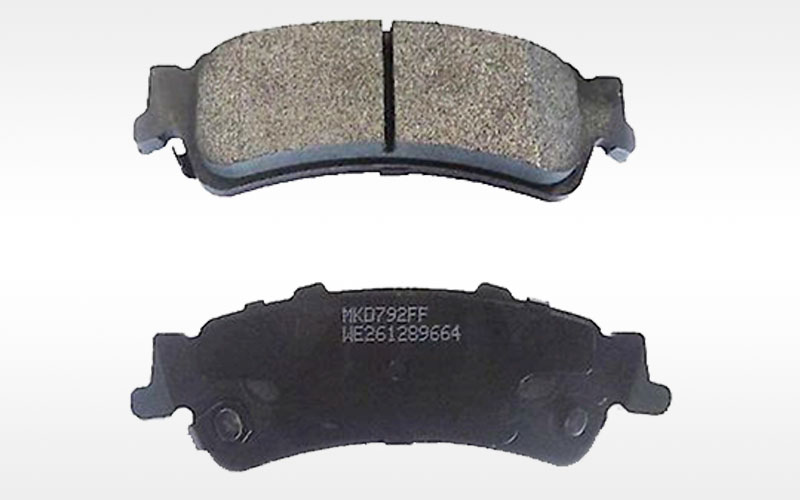 Semi-Metallic Brake Pads
Often referred to as just "metallic brake pads", these pads comprise 30% to 70% metals, including copper, iron, steel, or other composite alloys. These various metals combine with graphite lubricant as well as other fillers to complete the brake pad. The available metallic brake pad compounds vary. Each offers its advantages for different situations as diverse as daily commutes to track racing.
Regardless of the choices, suppose your car came with organic pads. In that case, it's best to stay with those because they work with the manufacturers' warranty. Unless you find yourself in performance applications like track days, organic pads will be fine. How long should brake pads last? Depending on driving conditions, you should look to replace them between 20,000 and 40,000 miles.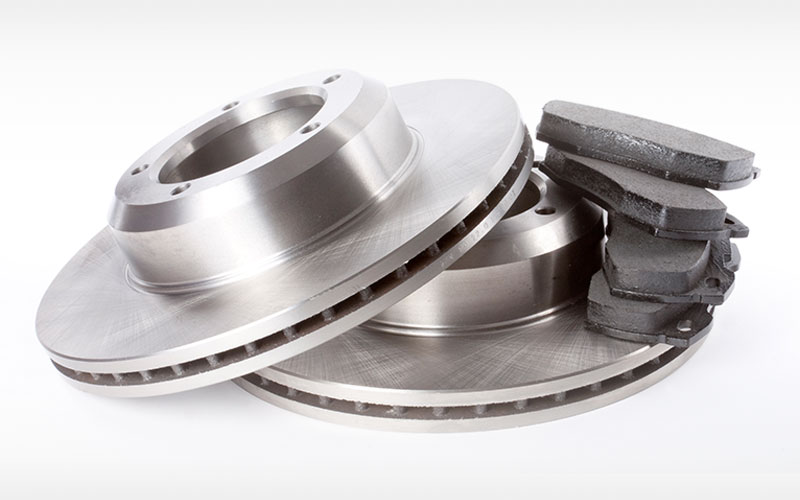 About Brake Rotors
Unless you are driving a high-performance or heavy towing vehicle, any rotor will do. However, be aware that there are many cheaply made and poorly manufactured rotors available. As in most product purchases, we recommend purchasing from known manufacturers or warranty-supported products. We recommend rotors from EBC, Power Stop, ACDelco, Wagner, Raybestos, or Brembo. It's also a good idea to check your car manufacturer's rotors as an option. With today's competitive parts pricing, dealer parts departments will often have less expensive pricing than a parts store.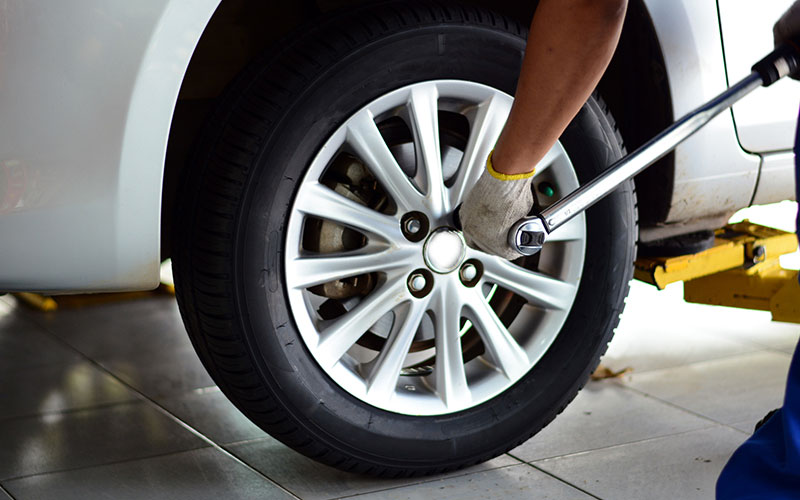 3. Loosen the Lug Nuts
Working on one side of the car, loosen the lug nuts while the tires are on the ground. Grab your lug wrench you've located in your car tool kit or breaker bar and appropriate socket and rotate the wrench clockwise. It's going to take a lot of torque, but you can do it. Get the lug nuts loose enough that you can remove them by hand once the car is on the jack stands.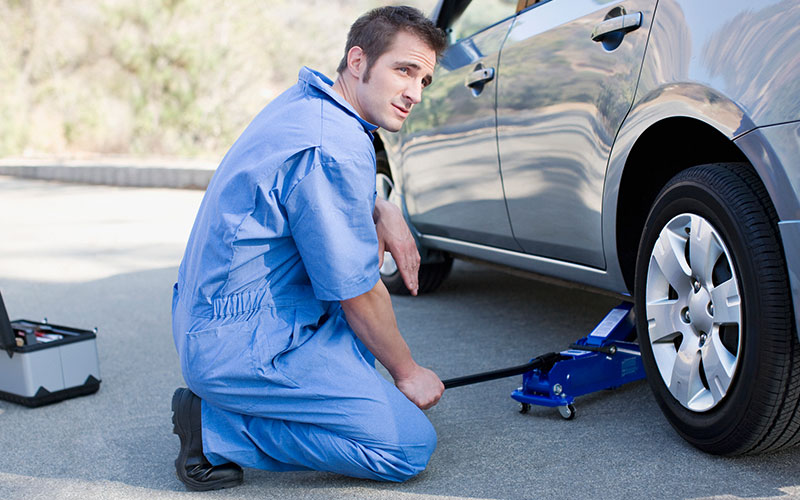 4. Jack Up the Car
Roll the hydraulic jack underneath the frame jack points located behind the front and ahead of the rear wheels. Depending on the car, they'll either be a dimpled area or reinforced protruded metal piece. Your owner's manual will show your models' jack points.
After your car is elevated, so the tires do not touch the ground, go ahead and lock down the floor jack bleeder valve. Slide your jack stands into place near the jack beneath a secure area of the car frame. It would be best only to use the jack to raise the vehicle while jack stands are being put into place. Once the jack stands are in place, slowly open the release valve on the floor jack until the car rests on the jack stands. You can now altogether remove the lug nuts and take off your wheels.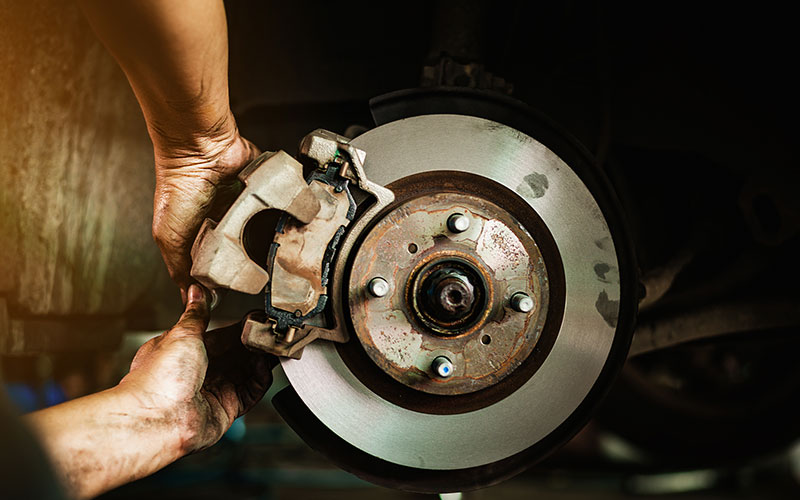 5. Loosen the Brake Caliper
Locate and remove the two brake caliper bolts. They will be either 14mm or 12mm on most cars but be prepared for them to be different. After taking out the bolts, the caliper should be able to slide out. you may need to wiggle the caliper to compress the pads a bit so they're not tight against the rotor. If needed, use a flat head screwdriver to pry the caliper out.
On some manufacturers, you may only need to take one bolt out and loosen the other. This allows you to rotate the caliper vertically and remove the pads and springs. It's best to use a wire or bungee cord to secure the caliper to the spring strut or other location. The purpose of this is to prevent putting any strain on the car's brake line.
6. Remove Caliper Carrier
Some vehicles, like the RAM 1500, will have a carrier that the caliper fits in. If so, locate the bolts that secure the caliper carrier to the hub's backside and remove them.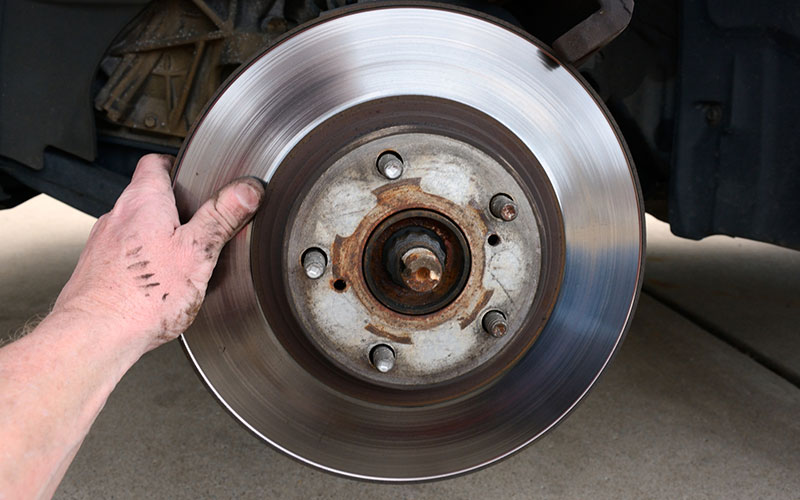 7. Remove Rotor
If you're the first car owner, the rotors may have a Torx head location bolt that will have to be removed. It's one bolt that's usually between two of the studs and easy to see. The bolt was used to keep the rotor on during its trip down the assembly line and no longer needed. After you remove it, you can choose not to reinstall it. The rotors may be rusted to the hub and need some coaxing to be removed on older cars. You can do this with a good-sized hammer whack on the rotor. We've found that hitting the rotor on the backside is the most effective technique.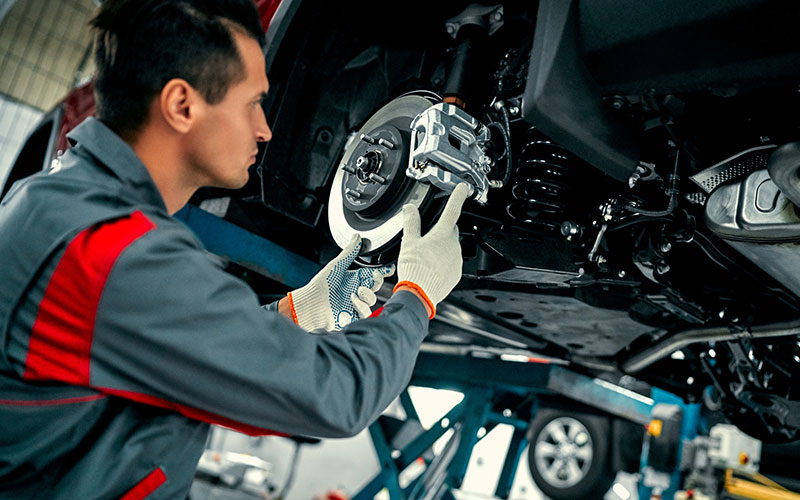 8. Install New Rotor
Grab your new rotors and give them a good wipe down with some brake cleaner. This is also an excellent time to get any corrosion off the hub if it's there. It can come off relatively quickly with a wire brush. In some cases, you may need to use a drill and sanding disc. In that case, make sure to use a face mask. Place the rotor on the hub and secure it with two hand tightened lug nuts while reinstalling the other car brake components.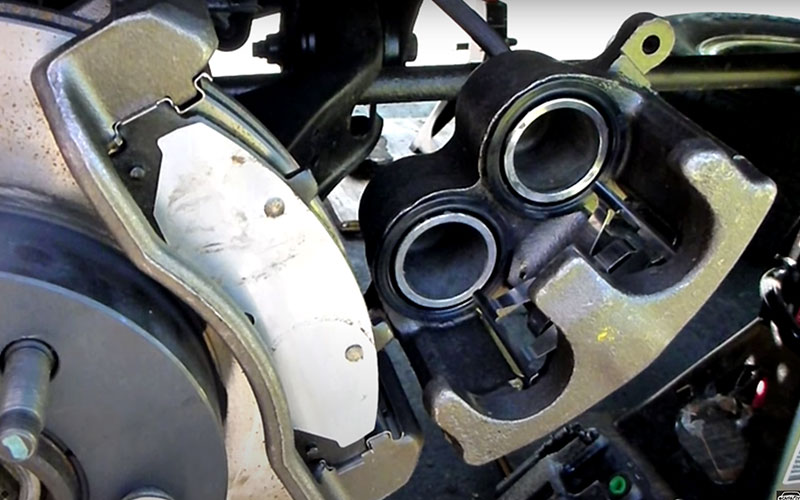 9. Assemble the Caliper Carrier
Position the carrier, replace the bolts and tighten them at 111 lb-ft of torque.
10. Compress Caliper
Remove the brake fluid reservoir cap, being careful not to get debris or water inside it, then grab your C-clamp and one of your old brake pads. Put the pad on the piston/pistons and position your C-clamp so you can compress the pad/piston until it's flush with the caliper housing.
11. Install Pads and Caliper
Put a thin coat of anti-squeal grease on the pad's metal side (not the friction side). Install the pads and reinstall the caliper bolts.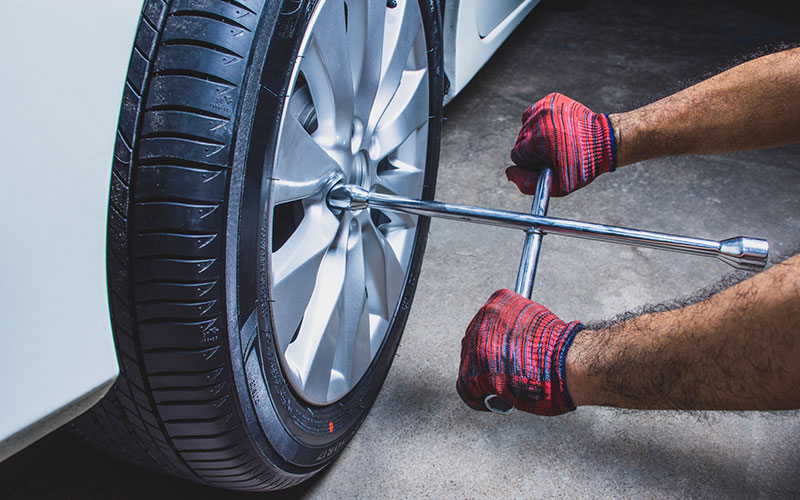 12. Put on Wheels
While the car is still on the jack stands, place the wheel on the hub and tighten the lugs by hand. Roll your jack under the car and start lifting until your frame clears the jack stands. Carefully remove the jack stands and lower the vehicle to the point that the tires touch the ground. While using a torque wrench, finish tightening the lug nuts. Torque values should be considered when tightening lug nuts. Many manufacturers suggest around 90 lb ft of torque.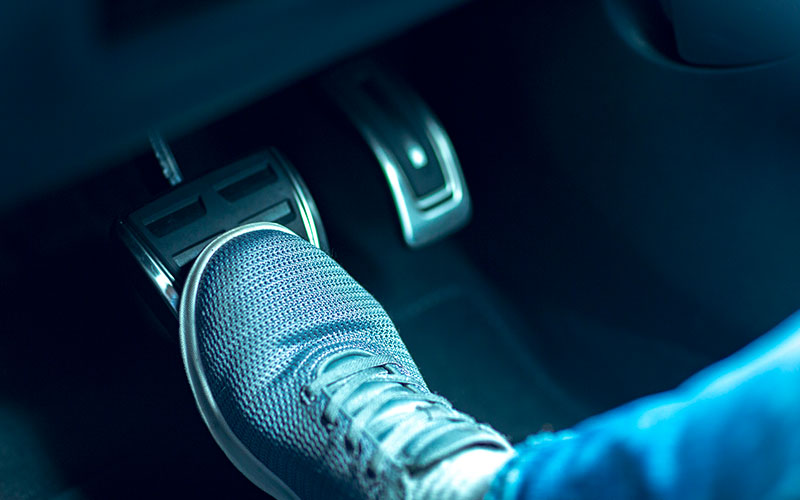 13. Slowly Pump the Brake Pedal
You should feel pressure within three pumps of the pedal. If the pedal continues to go to the floor, you may need to bleed the brake lines of any air.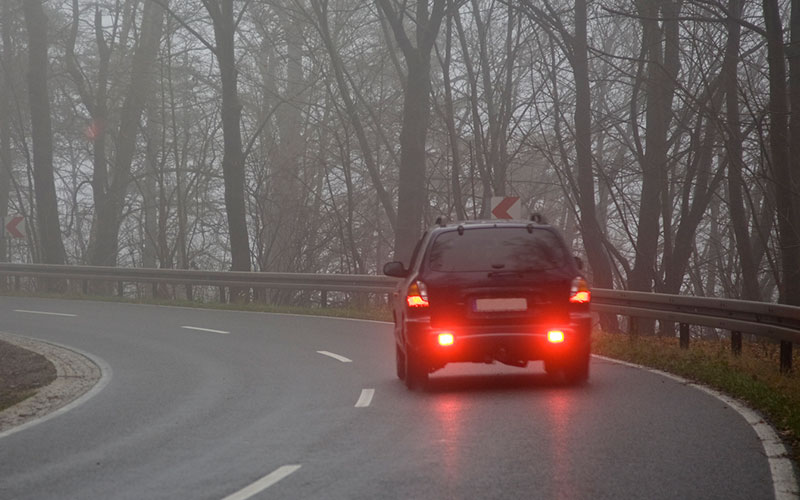 14. Break in Your Pads
Most pads manufacturers will give you a pad break-in sequence, so we recommend you follow that. If it's not available, a general rule is to Slowly drive to a stretch of road where you can travel safely at 40 mph. Accelerate to 40 and quickly bring the car to a stop. Repeat this three times. Do the same thing from a speed of 60 and brake down to 40. Afterward, you can drive as you usually do because your job is complete.