Doc Brown's Time Machine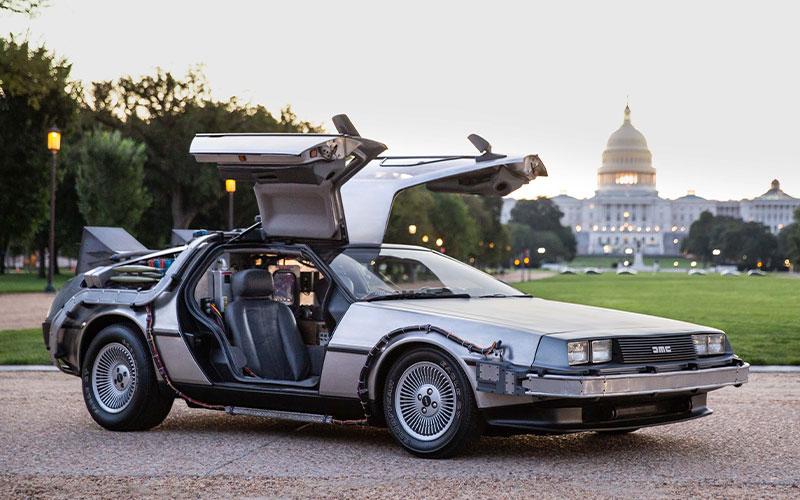 There are many interesting details to the Back to the Future car (just anyone who's embarked on building a replica). Among the detail in the build was the speedometer, which in the DMC-12 only went up to 85 mph. Since Doc Brown's time machine needed to achieve 88 mph for time travel, rather than change the script, filmmakers replaced the speedometer with one that went up to 95 mph. Another cool detail was the OUTATIME vanity plate, which was replaced with a barcode after Doc's time traveling to 2015.
The nuclear fusion reactor that powers the time machine originally ran on plutonium, which Doc Brown stole from Libyan terrorists (don't ask). This power source was replaced following Doc's visit to the year 2015 by a Mr. Fusion Home Energy Reactor (built from a coffee grinder). Though the Mr. Fusion ran on ordinary household garbage, it was still able to provide the 1.21 jigawatts (technically gigawatts) of power needed.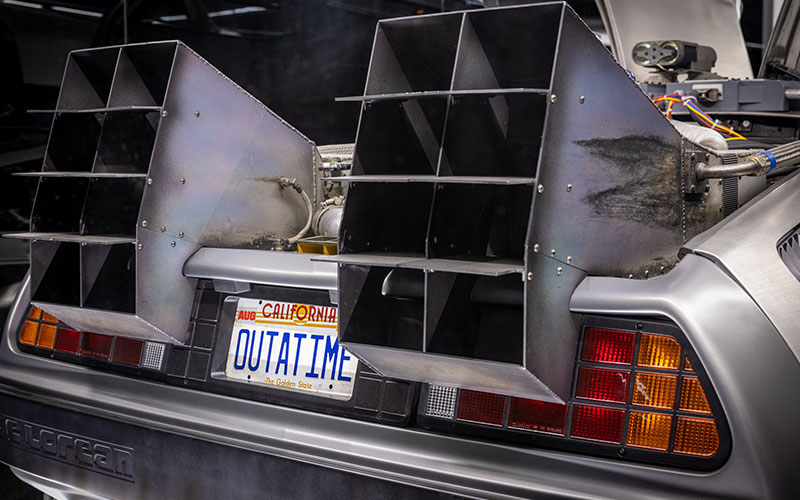 The time circuits are another important component. They're set to indicate the target time, present time, and prior time traveled from. All vitally important bits of information from time travel. The circuits get damaged in the sequel, sending Doc back not to 1985 but to 1885, thereby necessitating a third movie.
The flux capacitor is the heart of the time machine. As the DeLorean nears the critical 88s, the flux capacitor flashes and flickers. A Dymo label expresses says, "shield your eyes from the light." Though Doc is interrupted by Libyan terrorists (again, don't ask) before he can explain to Marty how exactly the flux capacitor works, he does mention that the stainless-steel body panels "improves the flux dispersal."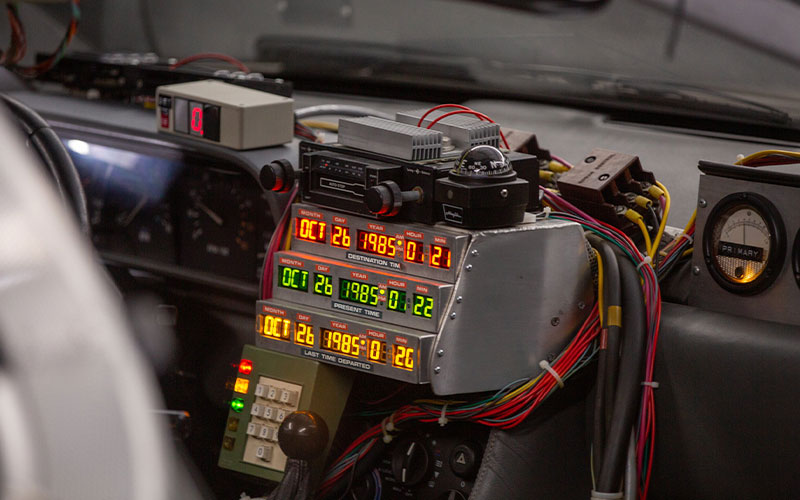 For those who dream of building their own DeLorean time machine, there's even a book, just published this past March, Back to the Future DeLorean Time Machine: Doc Brown's Owner's Workshop Manual written by the original screenwriter Bob Gale and Joe Walser the leading authority on the DeLorean time machine (he even did the restoration of the original A car for Universal Studios).
Whether you're a Back to the Future superfan or just nostalgic for Marty and Doc's time traveling misadventures, we know you'll never forget the DeLorean.