Advances in Electric Vehicles
Solar Charging Coming to Rural America
One of the biggest challenges for electric vehicle adoption is the lack of charging infrastructure. Range anxiety only exists because of the distance between charging stations remains significant in many areas of the country. And the further you get into the hinterlands of America, the harder it is to have reliable access to the electrical grid. Volkswagens Electrify America and Envision Solar think they have a solution. Solar powered charging stations. Featuring a 4.28kW photovoltaic array, these stations would be able to charge up to two vehicles at a 6kW charge speed. That's not level 3 DC fast charging, but it is a step in the right direction.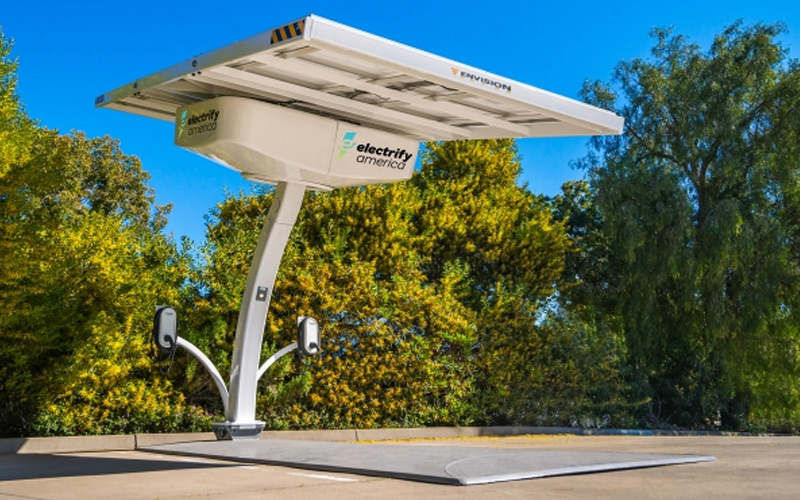 New Concept Keeps Its Tech Secrets Subtle
Speaking of reducing the environmental impact of mobility, Mercedes-Benz's most recent concept car, the Vision AVTR, inspired by James Cameron's Avatar, doesn't just look the part of car of the future. And though it's a little late to really dovetail with the movie, the car appears no less revolutionary than the film. While the wheels, the lack of a steering wheel, the screen surfaces, the transparent doors all wow and feel appropriately futuristic. But the biggest bit of tech in the car is invisible to the naked eye.
The big news with the AVTR is the organic electric battery pack. In keeping with the full vegan materials in the interior, the power source for the AVTR is intended to be green and, in fact, fully compostable. Utilizing a graphene-based organic cell and water-based electrolyte, the AVTR battery would eschew all those rare earth metals, like cobalt and lithium, and their attendant environmental impacts.
While they continue work on their graphene batteries (what Daimler says is a 10-15 year project), they will also look to improve upon existing technology. Head of Mercedes-Benz battery tech Andreas Hintennach estimates Daimler can squeeze another 25% efficiency out of lithium-ion technology.