Specs
Land Cruiser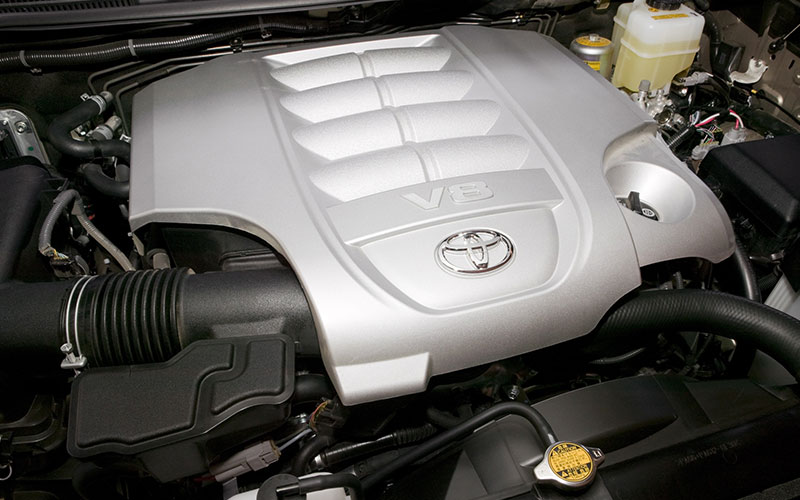 The 2008 J200 Toyota Land Cruiser came with just one engine option, a 5.7L naturally aspirated V8 making 381 horsepower and paired with a six-speed automatic with four-wheel drive. A big reason Land Cruisers carry their reputation for longevity is because of their simple, over-engineered, chain driven V8s. When buying them used, do note when and whether that timing chain has been replaced, it's considered the Land Cruiser's one weak link (and an easily addressed one at that).
The Land Cruiser was rated to tow up to 8,500lbs. Cargo room began with 16.1 cu. ft. behind the third row, 43 cu. ft. behind the second, and 81.7 cu. ft. in total.
G-Class
The 2005 G-Class offered two engine options. The first, which came in the G500, was a 5.0L V8 making 292 horsepower mated to a five-speed automatic with all-wheel drive. The second, in the G55 AMG, was a 5.5L supercharged V8 good for 469 horsepower. While both of these vehicles are heavy, the G-Class is lighter, with the Land Cruiser at 5,690lbs compared to the G-Class's 5,540lbs. This and the AMG's V8 make the G-Class the clear winner on the drag strip with a 0-60 sprint of approximately 6 second.
The G-Class was rated to tow up to 7,000lbs. Cargo in the G-Class started behind the second row with 45.2 cu. ft. and maxed out at 79.5 cu. ft.
Fuel economy is abysmal in both vehicles with 13 city / 14 highway mpg in the G-Class and 13 city / 18 highway mpg for the Land Cruiser. Those numbers, be warned, are wildly optimistic. Once you've filled them up with passengers and/or overlanding gear, expect somewhere closer to 10 mpg.