Birth of the IROC-Z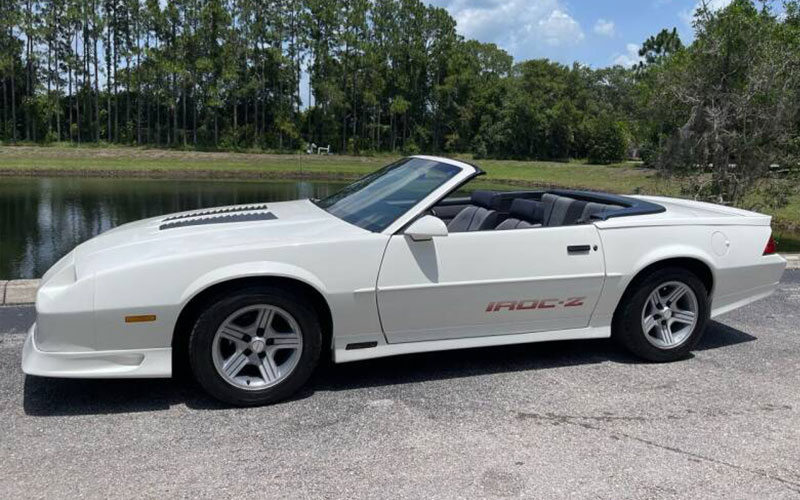 But what about the IROC-Z, you ask? For that story we need to look back a few years, to 1974.
IROC-Z stands for International Race of Champions and Z, because, if the naming conventions of snack foods and soda pops has taught us anything, it's that adding a Z or X at random automatically makes things sound 25 percent cooler.
The International Race of Champions began in 1974 as a sort of racing all-star competition, with drivers from across the spectrum, from NASCAR to Le Mans and everywhere in between, competing in the same car to prove whose skills behind the wheel were truly superior. For the inaugural race, organizers went with the Porsche Carrera RSR. They switched to the Chevy Camaro the following year and up to 1980, when the race when on hiatus. In 1985, the International Race of Champions was set to return, again with the Camaro as the car. Chevy took the marketing opportunity to offer a new, upgraded version of the Z28 and dubbed it the IROC-Z.
For just an extra $659 dollars, the IROC-Z got Camaro buyers a lowered, upgraded suspension, Bilstein shocks, stouter sway bars, and optional Tuned Port Injection (TPI) for the 305 cu-in V8. Both it and the Z28 got a low front spoiler and fake, but stylish, hood louvers. Specs were impressive (for the day) with the 305 putting up 215 horsepower and 275 lb-ft of torque and netting .90g on the skid pad.