Steps-By-Step
Step 1
The first thing you'll want to do is clean out your vehicle. Dig out all the stale French fries, the gym bag and skunky sports equipment, the doggy bed, and the kid's car seat. This last one will need special attention. In addition to all the crumbs, make sure to remove and clean the soft cloth portion of the car seat per the manufacturer instructions. Remove the floor mats and then vacuum these, the carpets, and seats thoroughly.
Step 2
Sprinkle baking soda, either by hand or with a sugar shaker, onto the carpet and floor mats. Let the baking soda sit overnight to absorb odors. The next day, you can vacuum it up.
Step 3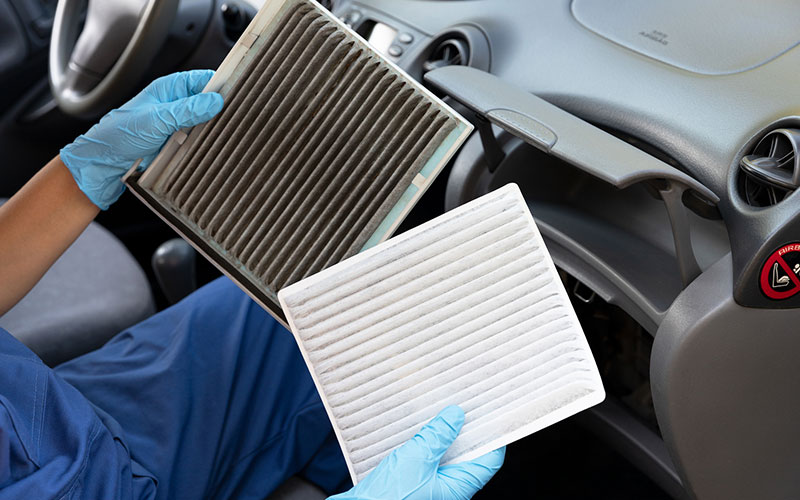 Remove the cabin air filter. This is typically located in or behind your glove box but consult your owner's manual on the specifics of removal. Next, use vent cleaner/spray in your AC vents and in the exterior intake vents, where your wipers sit, and the interior intake vents usually located in the foot wells. Now, turn on the recirculate function on your HVAC system and run the AC for five minutes with the windows up. After five minutes, put the windows down and run the fan by itself for another five minutes. After this, you can install the new cabin air filter.
Step 4
Here is where you could use an oxidizer if you chose to, following its specific instructions for use. After that, or if you chose to forego the oxidizer, it's time to apply a regular carpet cleaner or shampoo to the carpet, floor mats, and cloth seats. We recommend vacuuming one more time to help the carpet cleaner dry.
Step 5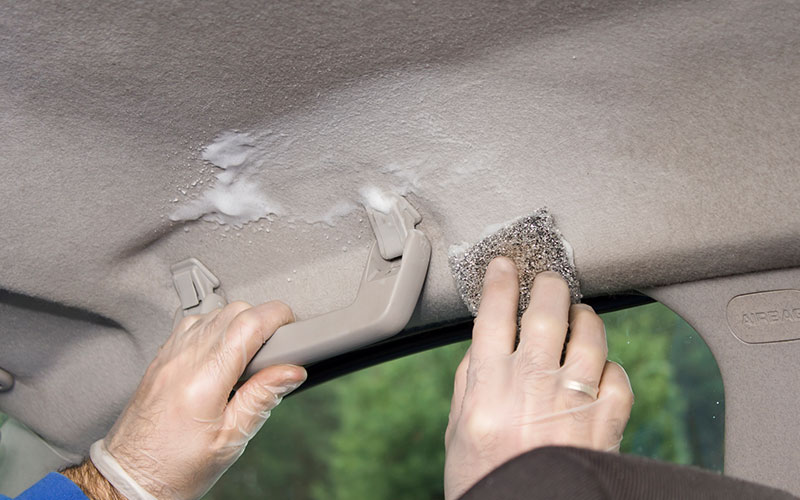 This step applies specifically to smoke odors, which tend to concentrate near the driver's side B-pillar, the seat belt, and of course the headliner. Use the same carpet cleaner, but rather than using a course brush, like the ones that come with carpet cleaner, you'll want to use a gentler application, like a stiff paint brush due to the delicate headliner material. You'll probably need to apply and brush multiple times to get smoke smell and stains out of the headliner.
The seat belt will also absorb smoke. Pull the belt out all the way and twist it several times to prevent it from retracting. Scrub both sides with a stiff brush while applying a carpet cleaner or other car interior cleaner. Leave the belt pulled out to ensure it dries before allowing it to retract.