Big, Silly Numbers
There are a few things about the G-Wagon 6×6 that won't surprise you. Take the 5.5L twin-turbo V8 making 544 horsepower and 560 lb.-ft. of torque. Makes sense, this is an AMG after all. The interior is also extremely well appointed with luxury touches that include quilted leather upholstery, a starry headliner, and wood paneling. Just premium as any Mercedes out there.
Things shift from the expected to the extraordinary once we turn our attention to the off-road attributes and capabilities of the G-Wagon 6×6. First, those three axles are in fact portal axles which further enhance the already prodigious height of the 6×6 to a mammoth 93-inches tall with nearly 20-inches of ground clearance (almost double that of a Jeep Wrangler). Power is split 30x40x30 and there are total of five locking differentials.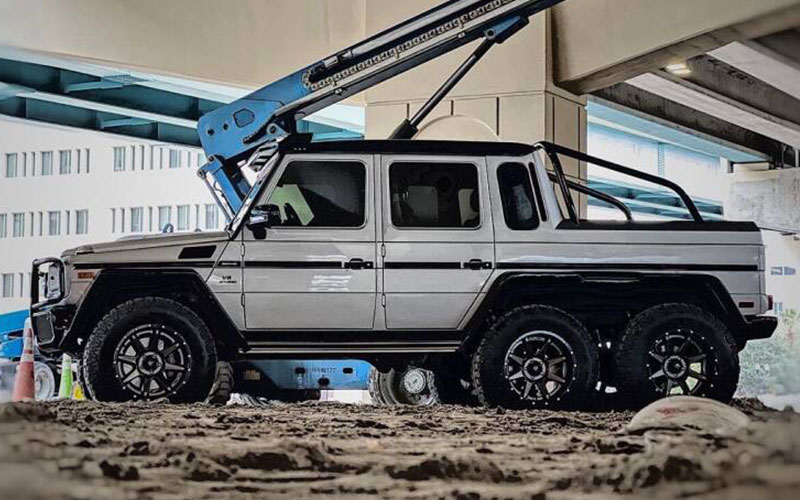 The G-Wagon 6×6's most notable feature has to do with its 37-inch tires. Since you'll likely be off-roading your 6×6, Mercedes made sure that deflating and airing up your tires was as easy as possible. For this they installed an in-tire deflation/inflation system allowing you to let air out and pump air back in at the push of a button. In fact, Mercedes calls the 20-seconds it takes to re-inflate the tires a "world-record" speed.
That AMG V8 provides decent power to the G-Wagon 6×6, but at 9,000-lbs., there's a lot of truck to move. This leaves the G-Wagon 6×6 with a 0-60 run of 7.8 seconds and a 40-gallon fuel tank is necessitated by what is undoubtedly rock-bottom fuel economy.