What the Lexus LF-Z Concept Tells Us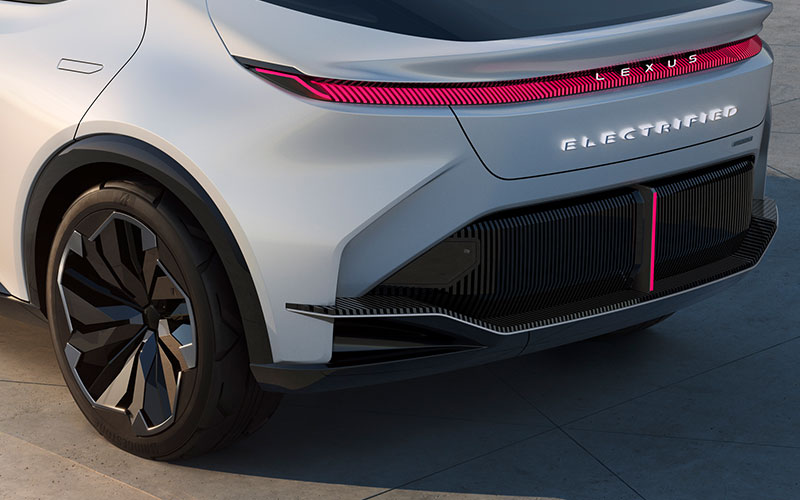 Details are scant on the Lexus LF-Z electrified concept. Lexus didn't release performance figures, ranges, powertrain, or battery information. What they did show off was the interior, exterior, and shared a few choice bits of tech and a lot of allusion to what's forthcoming.
First and most obvious, the LF-Z is a compact crossover with body lines and proportions that evoke the Lexus IS and UX, as well as the Toyota C-HR and recently updated Mirai. Of course there are what have become common EV concept tropes of very big wheels (made to look even bigger thanks to blacked out wheel arches), slit-like narrow LED headlights, a lightbar in the rear, and simulated continuous glass panels (in the case of the UF-Z the windshield continuing into the panoramic sunroof). Lexus says the LF-Z takes the current spindle grille design language and extends it to the rest of the vehicle with lots of sharp, almost crystalline lines. There also, curiously, a shark fin stabilizer atop the rear hatch that's reminiscent of modern supercars like the Bugatti Divo and McLaren Sabre.
Inside the LF-Z we find a design almost as clean and austere as Tesla's. Much of the controls and interfacing coming from a pair of digital screens, one a gauge cluster and the other for infotainment, etc. Here, Lexus is deploying new AI technology that, in their telling, will enter a "fruitful dialogue" with the driver, learning their preferences and habits to function as a "lifestyle concierge" capable of, at minimum, booking a restaurant or finding the nearest charging station for you. Most of this will be facilitated through new voice recognition software.
Overall, the LF-Z pushes Lexus design language forward while looking appropriately futuristic for an EV, all without resorting to the truly radical designs of recent EV concepts from Mercedes and BMW.