When it comes to looking at the best truck for snow plowing, stick to Ford, Chevy, or Ram as they all offered a factory-installed plow prep package.
Best Trucks for Snow Plowing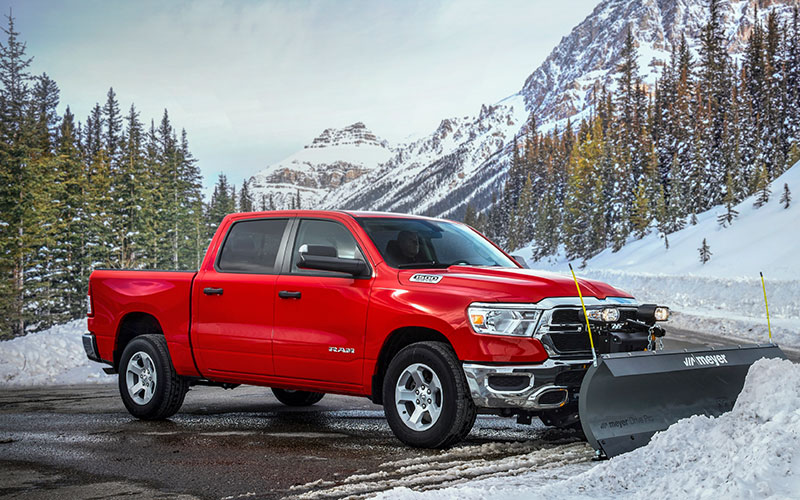 With the winter season coming in hot, so to speak, those of you in snowy climes may be wondering what the best truck for snow plowing is. There are a host of reasons you may need, or want, to hook a plow up to your truck. Perhaps you have a long driveway. Perhaps you live in a rural area that doesn't see a city plow very frequently – or ever. Maybe you're looking to start up a snow-plowing business. After all, combined annual revenues for the snow and ice management industry are in the neighborhood of $20 BILLION, so why not grab a slice of that pie?
Your intended use of a snow plow is an important consideration before you get started. Hanging a plow off the front of a truck adds an immediate weight imbalance. Obviously, the gigantic dump truck-mounted plows clearing the interstate are not going to work on a Ford Ranger from a simple weight perspective – the rear wheels would be barely touching the pavement. So, you need to ensure your pickup can handle the added load of a plow up front without dramatically altering how it drives.
Given that, we can break down this best truck for snow plowing discussion into two general categories. For light personal use, like clearing a few driveways or cutting a path to the main drag for your rural neighborhood, the full-size family of trucks like a Ford F-150 will get the job done. For those planning to start a small business that involves long hours of plowing parking lots and the like, your best bet is the ¾-ton heavy duty trucks segment occupied by the likes of Ford's Super Duty lineup.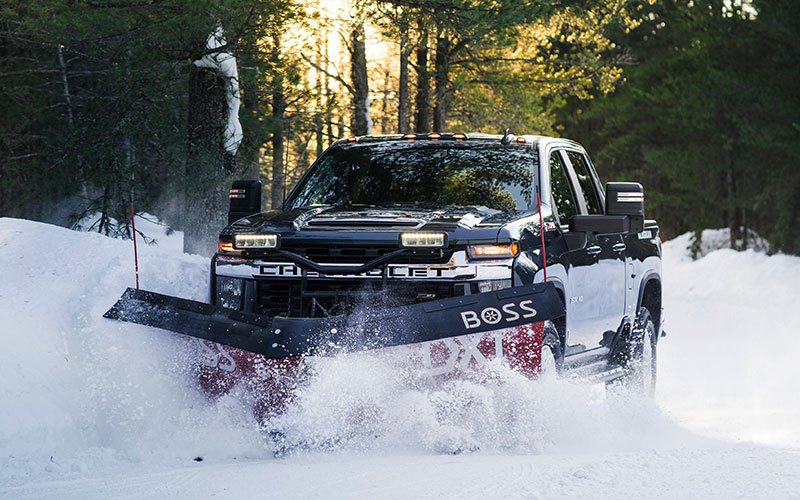 The main reason for this segmentation is back to the front-end load. A plow measuring roughly 7 ½ – feet across will weigh around 500 pounds. Moving up to an 8-foot-wide plow can bump that weight up to some 800 pounds. For a handful of driveways here and there, a smaller plow is ok but for the bigger jobs, a larger plow simply moves more snow faster. So, make sure the gross vehicle weight rating of your truck, an easily found manufacturer spec, can handle the weight of the plow to avoid overly stressing the front suspension and decreasing braking effectiveness.
Though the midsize segment – Tacoma, Ranger, etc. – can technically handle small plow jobs, by sticking to the ½-ton segment and above, you can find vehicles with manufacturer-installed snow plow prep packages and make life easier. On that note, we'll skip over the Nissan Titan and Toyota Tundra as they do not offer this option.
Some additional criteria to keep in mind include four-wheel-drive, which is essentially required gear to avoid getting stuck. Visibility while plowing is critical, so features like heated exterior mirrors and a rear window with defrost is a good idea. Since we're going to be looking at used trucks, keep an eye on mileage as plowing will add stress to the overall vehicle, particularly the transmission, so it helps to start with a lightly used vehicle.
And be sure to check out our Winterizing Tips and Mountain Driving Best Practices articles as they provide a lot of information that is relevant to our snow-plowing conversation. With all that in mind, let's look at the best trucks for snow plowing.