A Dynamic Design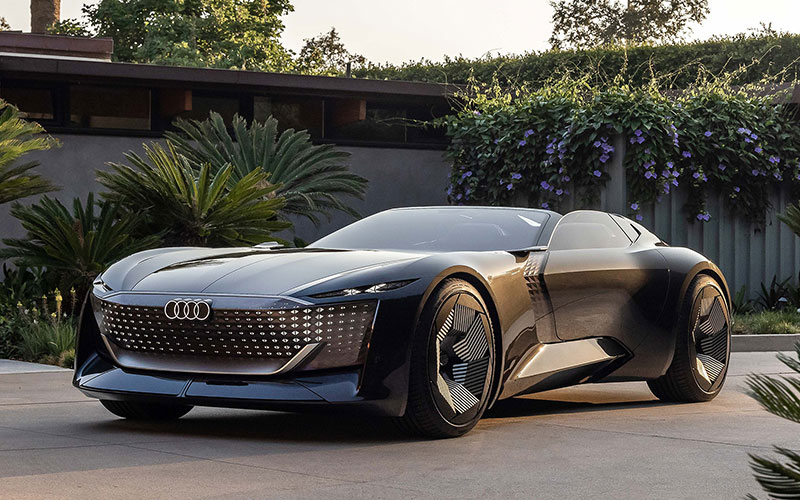 Wow! That's my immediate reaction. The Skysphere is Batman meets Tron: Legacy. This EV is contemporary and futuristic at the same time. It's even more impressive when you see what it can do.
The idea for this concept car was created at the Audi Design Studio in Malibu, California. Inspired by the Horch 853 roadster, it started with a pencil and sketchpad. Borrowing some of the profile from the Horch 853, the dimensions are similar as well. The Horch was 5.20 meters (or 17 feet) in length, while the Skysphere is 5.23 meters (or 17.1 feet).
After the initial sketch, designers pulled in computers to make 3D models. They then checked those models using virtual reality goggles.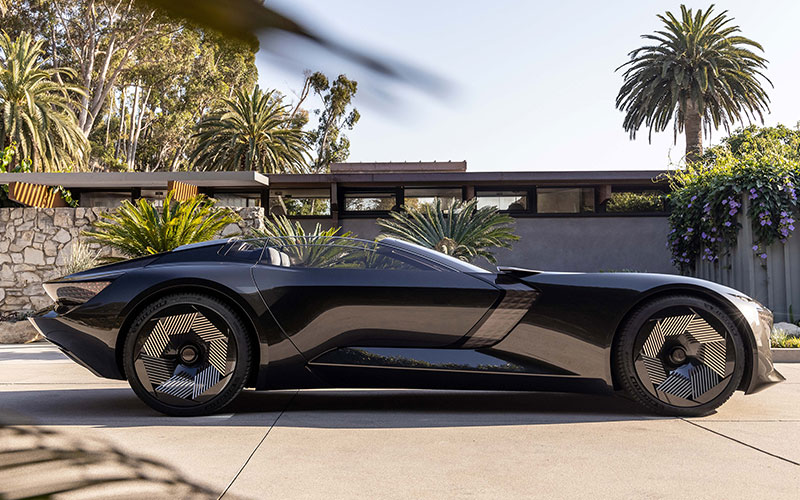 To achieve luxury and sportiness, the designers essentially created two cars in one: a grand touring car with long wheelbase, that is driven autonomously, and a sports car with a short wheelbase, focusing on driving dynamics.
That switch is made with the push of a button. That's right, the car literally morphs as it's driving! The steering wheel elevates from underneath the dash and the pedals appear from underneath the foot rest. In sport mode, the wheelbase decreases by just under 10 inches. The vehicle's ground clearance is also adjusted, but only by 0.4 inches.
All of this change impacts the driving characteristics, allowing the GT mode to offer a smoother ride, while the Sports mode has an optimized center of gravity and the aerodynamics needed for an active driving style. This adaptive wheelbase makes for a smaller turning radius.
A steer-by-wire system controls the front and rear wheels, allowing the driver to select different steering ratios and settings, ranging from very direct to comfortable. The rear-wheel steering helps maintain the car's agility, despite the dimensions.
Double wishbone axles, forged or cast from aluminum, are located in the front and rear of the Skysphere. Meanwhile, three independent air chambers provide the base suspension. Each chamber can be deactivated for faster acceleration and a sportier ride. Like I said: two cars in one.