How Do You Read a Vehicle History Report?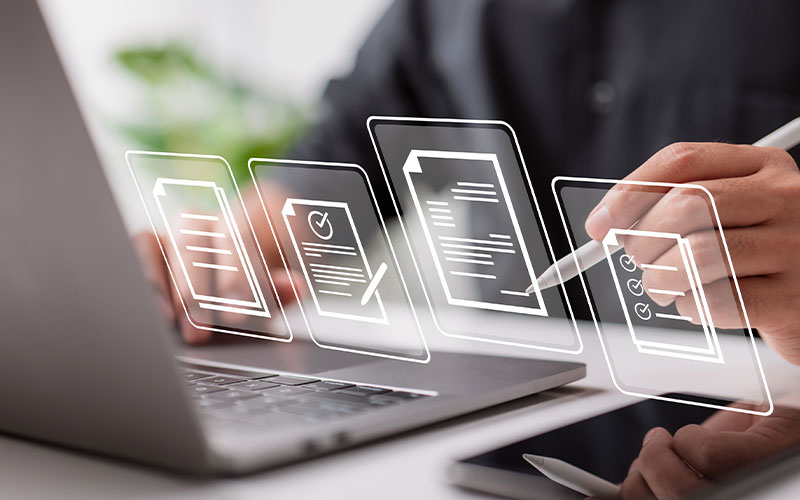 Now that you've got your hands on a Vehicle History Report, it's time to understand what the report is actually saying. There are a handful of different sections to understand and a ton of different title brands to go through. While every Vehicle History Report looks different and offers their own unique features, we'll be utilizing Carsforsale.com's free Vehicle History Report service as an example to help us better understand how to read a Vehicle History Report.
Vehicle History Report Header
These Vehicle History Reports typically feature a header that provides which service is being used for the report, what the vehicle is, the VIN, and sometimes a helpful addition specific to which reporting service you use. For Carsforsale.com, the header includes national averages on price and mileage of the specific vehicle being requested. This can help you paint a picture of how good of a deal you may be getting on your used purchase.
Report Overview
The Vehicle History Report overview section gives a breakdown of what information can be found in the report. Items like whether there is a title brand (more on that in a bit), junk & salvage info, insurance claims, available history, and a number of brief overview items depending on which service you use for the report.
Standard Information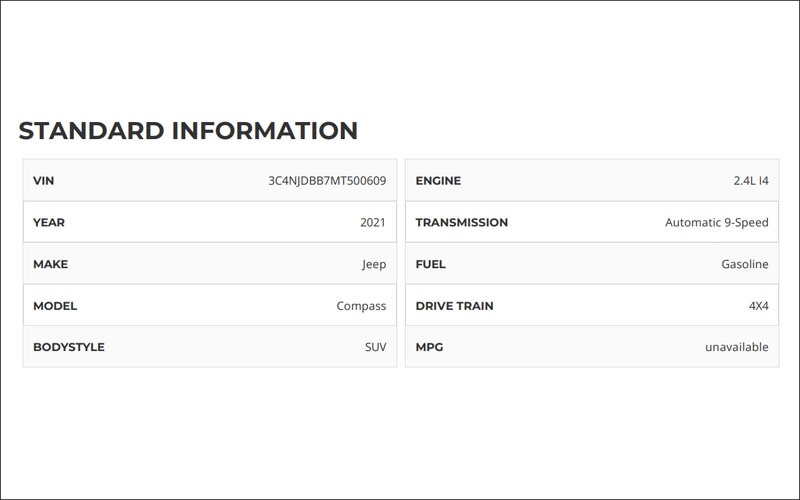 Some Vehicle History Report services may include standard vehicle information that has been recorded. This standard information is typically the year of the vehicle, make, model, body style, engine configuration, transmission configuration, fuel type, drivetrain configuration, and estimated miles per gallon.
Online History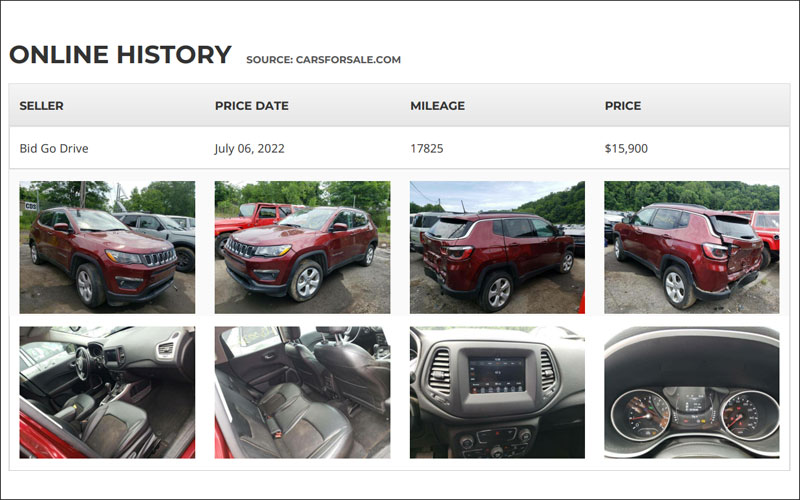 Vehicle History Reporting services may include different resources alongside those provided by the NMVTIS. For Carsforsale.com, our Vehicle History Report includes historical sales data from over 20 years of online sales records on Carsforsale.com. This information not only shows which dealership the car had been previously sold from but also the mileage that it was listed at, the previous listed price of the vehicle, and when the price was listed.
Junk & Salvage Information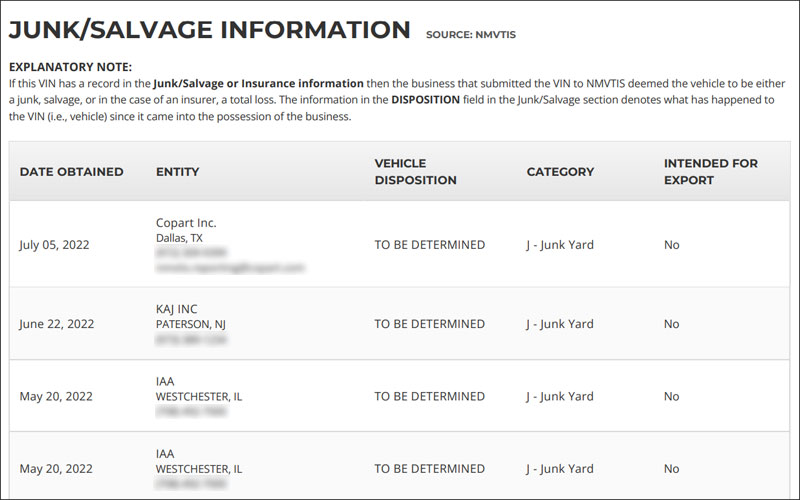 Now we're starting to get into the important information. Vehicles listed as salvage or junk condition are recorded by reporting parties when a vehicle has incurred significant damage. Vehicles labeled as junk are so damaged that they are deemed not fit or safe to operate on public roadways and should never be titled or registered again once given this label. If a Vehicle History Report comes back with the vehicle being listed as junk, this car is only viable for spare parts or for scrap.
Salvage vehicles are also significantly damaged and deemed unsafe to drive, but they can be repaired. If a salvage vehicle is properly repaired to a safe condition, it can be inspected and allowed to receive a new title and registration to drive on public roads again. While a salvage titled vehicle may be repaired and inspected, that history is still there and some underlying problems may persist even if it is viable to be driven.
Insurance Records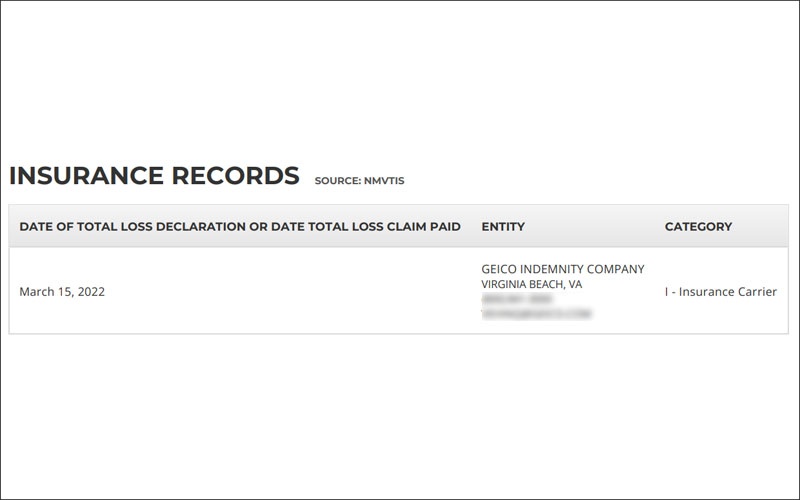 Insurance companies report to the NMVTIS when a vehicle has been involved in an accident and if they've labeled the vehicle as a total loss. When a vehicle has been involved in an accident or hit by a natural disaster and is reported to insurance, an insurance adjuster will review the claim. That damage is then calculated against the current value of the vehicle and if it exceeds the value range by about 75% of the car's value, it will be considered not worth repairing and deemed a total loss. Once considered a total loss, the vehicle can then be reported to the NMVTIS as either a salvage or junk vehicle depending on the extent of the vehicle's damage.
Another piece of information that can be noted by insurance is if the owner retained the vehicle after being labeled as a total loss. This could mean that the owner then took their salvage vehicle and had it fixed at a shop and inspected before selling. What it also could mean though is that the vehicle still has underlying damage that hasn't been addressed and you'd have to deal with the repairs to get the vehicle up to spec for inspection before getting titled or won't even be able to title the vehicle since it is considered junk.
Title Information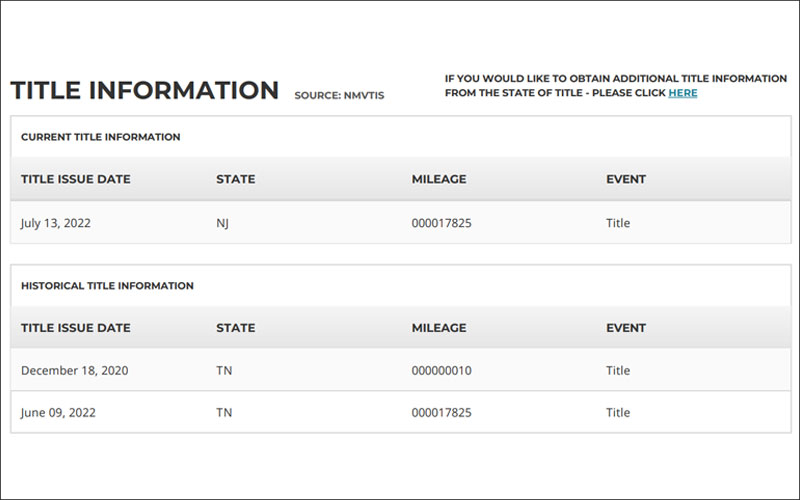 The Title Information area displays the date, state, and mileage that the reporting vehicle is currently titled for and its previous title information. This can help you see if a vehicle that's claimed to be from Texas actually spent some time in the Salt Belt when it was titled in Minnesota. There is also available state title information you can look up with the provided link on the Vehicle History Report that can give you some additional title information depending on the state you're searching.
Title Brand Information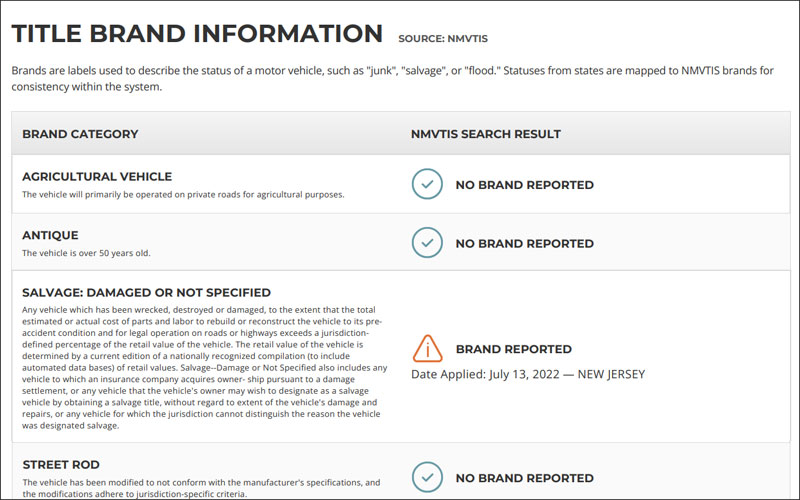 There are a lot of title brands that the NMVTIS uses to label the status of a vehicle that relates to its history. The major brands we've already talked about are the salvage and junk brands. These brands show that the vehicle has a history of reportable damage from a junkyard or insurance party. Salvage means it's damaged to an extent that it can't be driven but could be repaired, while junk means it's a lost cause and is only viable for spare parts or scrap.
A notable title brand you may see is a Manufacturer Buy Back brand. This is sometimes also referred to as a Lemon title. This title is noted when a vehicle has been repurchased by the manufacturer for being defective or otherwise in accordance with Lemon Laws. If a vehicle featuring a Manufacturer Buy Back brand is being sold back to the public, it most likely means that the manufacturer returned the vehicle to its original standards and will still be backed by the manufacturer warranty.
Another brand of note is whether a vehicle title is branded as a Gray Market import. Gray Market imports are vehicles that were not initially available in the USA and are imported usually as a way to circumvent higher prices found at local dealerships. Like importing a JDM Honda Civic instead of purchasing one from a local Honda dealership. This title brand is more relevant to vehicles prior to 1988 following the Motor Vehicle Safety Compliance Act which essentially ended private importing of Gray Market vehicles. The Gray Market title brand also splits between compliant and non-compliant depending on if the vehicle meets applicable federal standards.
There are also a number of different title brands in reference to the vehicle's odometer. The vehicle can be branded with a discrepancy in relation to the odometer if the reported reading doesn't lineup with the previous known record of the mileage. This oddity could lead to another notice of the odometer being listed as "maybe altered" or even as "not actual". This mileage on the odometer could be listed as "exceeds mechanical limits" where it reads as a lower mileage, but in actuality the old odometer rolled over and no longer reflects the true mileage of the vehicle. There is also the case of the odometer having been replaced and not being changed to the previous mileage recording. It can also be found that the odometer was tampered with and listed as "tampering verified".
These are only some of the different title brands you can run into though. Here's a list with a short description of the various title brands you may encounter on a Vehicle History Report.
Agricultural Vehicle – The vehicle's previous history was primarily for use in agricultural work and use on private roads.
Antique – This vehicle is over 50 years old.
Bond Posted – An insurance company has issued a bond on this vehicle because the vehicle ownership could not be proven. This allows for the sale and titling of the vehicle. (This brand has been irrelevant since January 17th of 2003)
Classic – This vehicle is over 20 years old and meets other jurisdiction-specific criteria such as the vehicle's make, condition, and more to classify it as a classic car.
Collision – This vehicle has a history of being damaged in a collision.
Crushed – This vehicle had its frame or chassis crushed or completely destroyed. It is physically impossible to use a crushed vehicle or its parts.
Disclosed Damage – This vehicle has damage that was so extensive that it was required to be disclosed under the jurisdiction's damage disclosure law.
Dismantled – This vehicle can only be sold for part and not legally driven.
Export Only Vehicle – An Export Only Vehicle is a salvage or junk vehicle that can only be exported outside the USA and cannot be titled or registered for use in the USA again.
Fire Damage – This vehicle has been reportedly damaged by fire.
Flood Damage – This vehicle has been reportedly damaged by a freshwater flood specifically or could not be determined to be salt water damage.
Former Rental – This vehicle has been used in rental services.
Hail Damage – This vehicle has been reportedly damaged by a hail storm.
Hazardous Substance Contaminated Vehicle – The jurisdiction this vehicle resided in previously has deemed this vehicle contaminated by a hazardous substance and is unsafe for normal use. A hazardous substance is described as any substance that could diminish the safety of the vehicle or physically harm its occupants.
Kit – This vehicle was built utilizing a chassis featuring a non-matching VIN frame, engine, and/or body parts. The chassis VIN was used for identification.
Logging Vehicle – This vehicle was/is primarily used for logging purposes on private roads.
Memorandum Copy – The title document for this vehicle is a facsimile title and no the active, original or duplicate, title document.
Original Police – This vehicle was originally registered for law enforcement work.
Original Taxi – This vehicle was/is registered as a taxicab.
Owner Retained – Insurance labeled the vehicle as a total loss but the owner retained the vehicle and kept ownership of the vehicle.
Parts Only – This vehicle is only used for parts. (Now referenced under Dismantled after 2007)
Prior Non-Repairable/Repaired – This vehicle was constructed by repairing a vehicle that has been destroyed or declared to be non-repairable, but has been issued a title in accordance with state law after falling within this criterion with this brand on the face of the certificate of title.
Rebuilt – This vehicle was previously branded as salvage, but has passed inspections or other procedures to ensure that the vehicle was rebuilt to the required standards. Sometimes also referred to as prior salvaged.
Reconstructed – This vehicle has been altered permanently from the original construction by removing, adding, or substituting major components to it.
Recovered Theft – This vehicle has a history of being stolen and as a result was previously titled as salvage. This vehicle has since passed inspections or other procedures to ensure that the vehicle may be driven legally.
Refurbished – This is a vehicle that has been modified by the installation of a new cab and chassis for the existing coach which has been renovated. This resulted in the vehicle being deemed of greater value or with an entirely new style.
Remanufactured – This vehicle was reconstructed by its manufacturer.
Replica – This vehicle features a body that was built to resemble and act as a reproduction of another vehicle of a given year and manufacturer.
Saltwater Damage – This vehicle has been reportedly damaged by a saltwater flood.
Street Rod – this vehicle has been modified to a point that it no longer conforms with the manufacturer's initial specifications. These modifications still adhere to jurisdiction-specific criteria to be titled.
Test Vehicle – This vehicle is built and retained by the manufacturer for testing purposes.
Totaled – This vehicle was declared a total loss by a reporting entity that is obligated to cover the loss or that the insurer takes possession of or title to.
Undisclosed Lien – This vehicle has entered the titling jurisdiction from another jurisdiction that doesn't disclose line-holder information on the title. (This brand isn't valid after January 17th of 2003)
Vandalism – This vehicle has been reportedly damaged by vandals.
Vehicle Contains Reissued VIN – The VIN found on the chassis of this vehicle has been reissued.
Vehicle Non-Conformity – A vehicle non-conformity is a defect reported by the vehicle's manufacturer and can either be listed as corrected or uncorrected depending on the defect's status.
Vehicle Safety Defect – A vehicle safety defect is a defect to the vehicle's safety that is reported by the vehicle's manufacturer and can either be listed as corrected or uncorrected depending on the safety defect's status.
VIN Replaced – This vehicle had its VIN replaced by a new state assigned VIN. This brand can be issued for rebuilt vehicles, but a title should not be issued for the replacement VIN.
Warranty Return – This vehicle was returned to the manufacturer due to a breach in the vehicle's warranty.