What Are Trophy Trucks?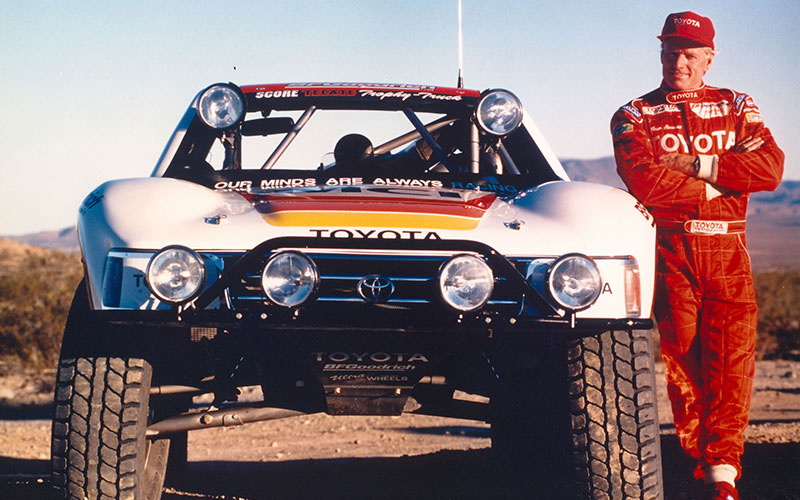 Trophy trucks are uniquely crafted off-road machines that race through deserts, over rocky terrain, and take jumps in stride. The trophy truck class wasn't officially classified until 1994 for the by SCORE for the Baja 1000. However, one of the earliest and most popular examples of what we consider the modern trophy truck was Toyota's TRD developed off-road racing truck. Ivan "Ironman" Stewart raced Toyota's trophy truck from 1983 until 2000, racking up a long list of wins in both the stadium circuit and in the Baja endurance events. He was so good in fact, you may have recognized his iconic Toyota trophy truck from the cover of his 1990s video game, Ivan "Ironman" Stewarts Super Off Road.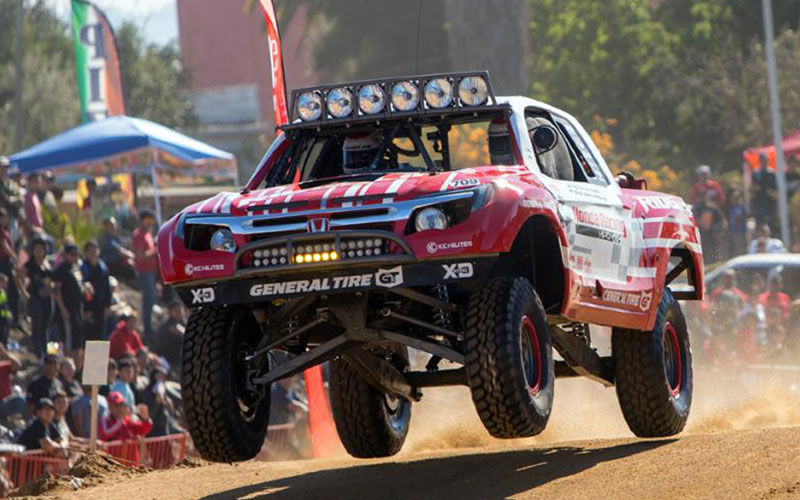 With his success and the extensive engineering TRD utilized to create his racing trucks, the classification of trophy trucks we know today were born. But what makes these trucks different from the pickup trucks we see every day? For one, there isn't really a truck bed to speak of. There may be some spots back there for tool boxes and tires, otherwise it looks like a mess of metal tubing and empty spaces. There's more to it than just the absence of a bed though, so here's a quick rundown on what makes a trophy truck a trophy truck.
Trophy trucks are predominantly made up of a tube chassis that's adorned with a highly stylized and sponsored composite truck body. These composite body panels are molded to resemble production trucks like the Ford F-150, Chevrolet Silverado, Toyota Tacoma, Honda Ridgeline, or something completely unique in terms of design. Depending on the type of racing, you can find these trophy trucks outfitted with lighting across their roofs and fronts, skid plates, spare tires at the rear, and some form of number plate.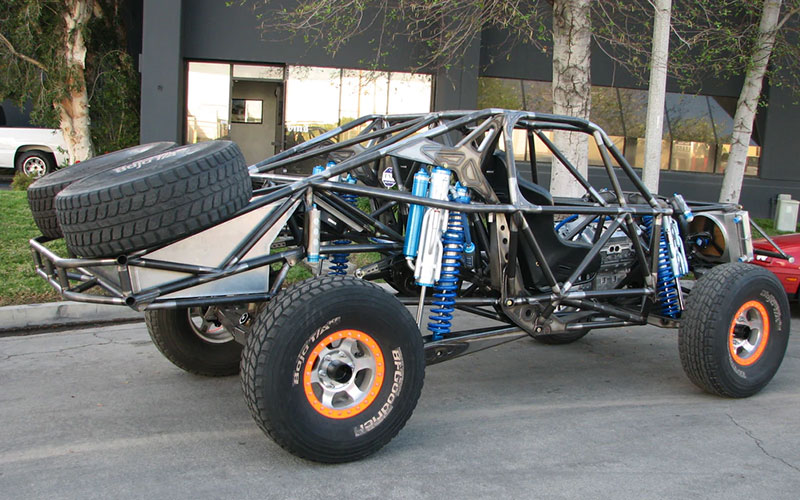 The next largest component is one of the most important bits, the long travel suspension that's been highly engineered and tuned to peak performance in these trucks. At the front, trophy trucks utilize a specially crafted independent A-arm setup with racing engineered bypass shocks and coilovers from brands like Bilstein, Fox Racing, King Off-Road Racing Shocks, TRD, and many more. These same brands offer their proven trophy truck shocks for your own prerunner build if you're in the market.
Trophy trucks need some incredibly powerful and bulletproof engines when it comes to reaching those high speeds though. Peeling back the composite shell reveals a big-block V8 engine stuffed inside these trucks and they're typically sourced from Ford, GM, or Toyota. The naturally aspirated V8s are given a full overhaul by strengthening components, machining custom parts, installing aftermarket enhancements, and by outfitting them with some serious air filters. Trophy trucks intake a ton of air and it is almost always full of dust or debris, so having a giant, high-quality air filter is a must. These engines are then dynoed and tuned to have a good torque to horsepower ratio.
Feeding that big V8 is a massive fuel tank sitting where the truck bed would be. These trophy trucks aren't the most fuel efficient, only getting between two to three miles per gallon. So, the fuel tank in turn has to be large enough to keep it moving for miles on end with little need to stop for fuel. Typically, trophy truck fuel tanks can range between 60 to 100 gallons. That's significantly larger than the tanks found in gas guzzling full-size SUVs like the Chevrolet Suburban at 28 gallons.