All the EVs
It may take a few years for the car-buying public to adjust, with carmakers operating under the "built it and they will come" approach. Given the lead time necessary to get any new vehicle to market, this makes sense, and surging demand of EVs and hybrids in the past few years indicates the car-buying public is catching on fast. To help further stoke that demand, carmakers were positioning their newly electrified offerings front and center at this year's Detroit Auto Show. Here's a rundown of the highlights:
Ford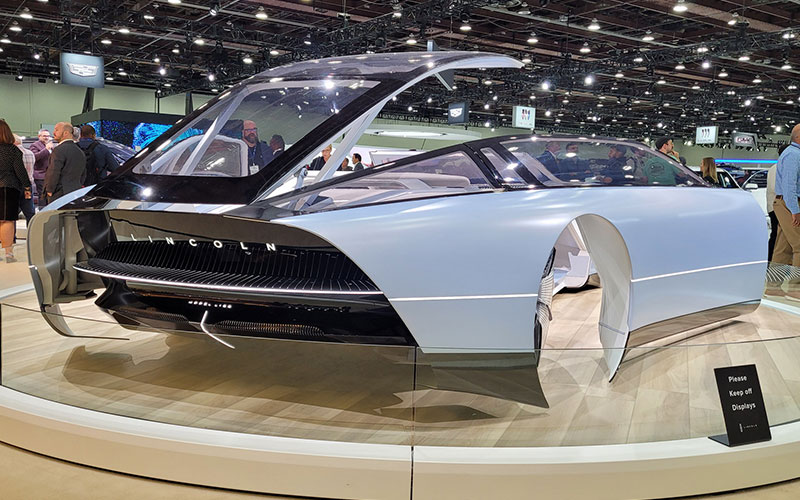 The big story for Ford coming out of this week's show was the new Mustang, but the carmaker still had plenty of EVs on hand as well. This included the F-150 Lightning and Mustang Mach-E as well as the E-Transit van, all already in production. Lincoln, on the other hand, was showcasing a proper concept car in the Lincoln L100. The L100 is a fully electric autonomous vehicle in the same vein as the Mercedes-Benz AVTR, Audi Skysphere, and BMW Vision Next 100, that is, very futuristic and extremely far from production. The L100 features rear hinged doors and a hinged, clam-shell roof. Navigation is accomplished via a "chess board" map and a mouse-like cursor. Its most notable design, however, was a floor-spanning digital screen the practicality and utility of which is obviously suspect. Like I said, a proper concept car.
Stellantis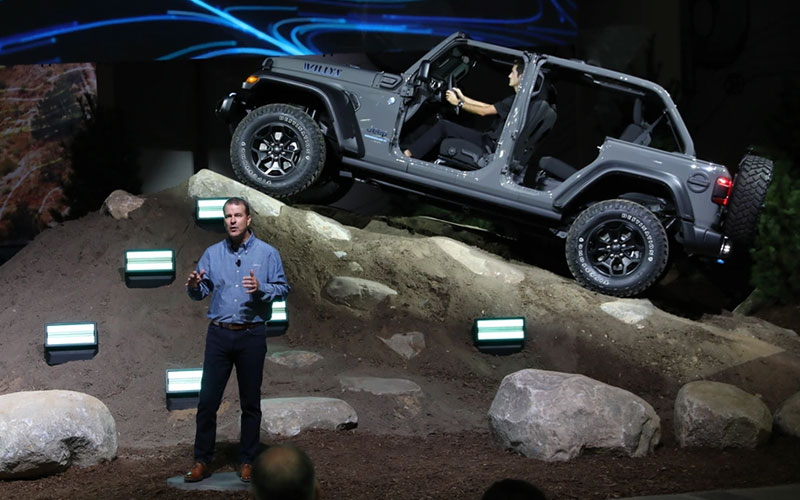 Stellantis' many brands also had a sizable number of EVs on hand. These included the new Dodge Hornet which will offer a hybrid option and the new Dodge Charger Daytona SRT EV. Jeep had the biggest news as it positions itself as the electrified SUV brand. For Wrangler fans, Jeep will be bringing down the price of its plug-in hybrid powertrain with the addition of the new Willys 4xe PHEV, which will start at $53,995. The Jeep Wagoneer will also be getting its own 4xe PHEV version as well. Jeep also introduced two new full-electric vehicles, the Jeep Recon an off-road EV in the same vein as the Wrangler, and an EV version of the Grand Wagoneer, codenamed the Wagoneer S. The latter is targeted for up to 400 miles of range, approximately 600 horsepower, and a zero to sixty sprint of 3.5 seconds. Don't expect it to be cheap.
GM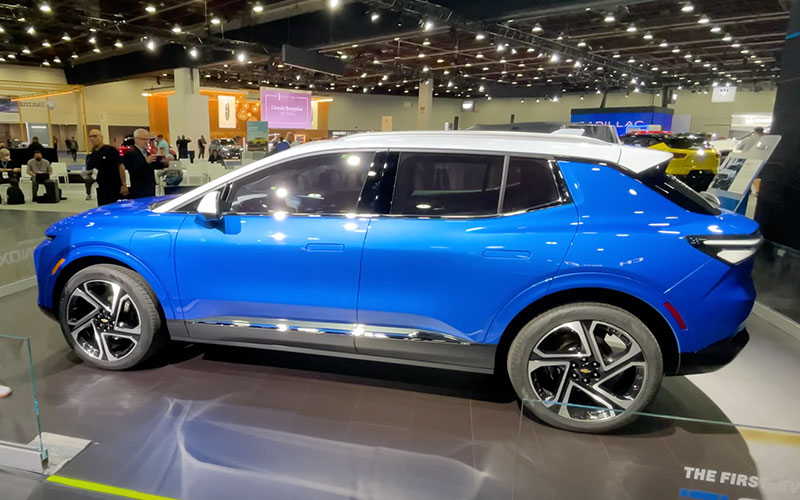 With their new Ultium platform, GM had a host of EVs at the show, starting with their new electric version of the Chevrolet Equinox. If that doesn't blow your socks off, just wait. The Equinox EV's claim to fame will be its affordability as Chevy will be offering it starting at a $30,000 MSRP, lower than nearly all of the electric crossover competition. The Equinox EV will come in either front-wheel or all-wheel drive and offer two battery sizes, the smaller with up to 350 miles of range and 210 horsepower while the larger battery should be good for up to 300 miles of range and 290 horsepower.
More exciting is the all-electric version of the Chevy Blazer. This too will offer multiple battery sizes and add your choice front-, rear- or all-wheel drive and vary battery sizes. First off the assembly line will be the Blazer SS which will come exclusively in AWD and boast a raucous 560 horsepower.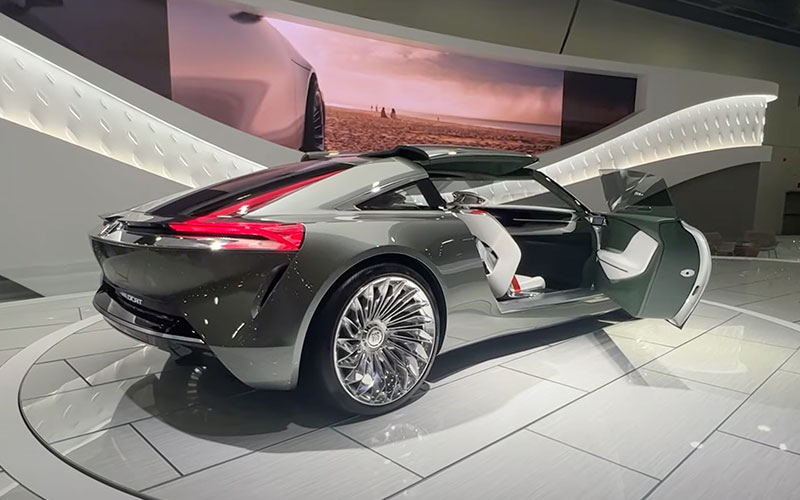 The new Chevy Silverado electric pickup was also on hand. The truck itself is oddly proportioned, with a high belt line, huge wheels, and Alvanche-esque rearward sloping C-pillars. Still, the Silverado EV will be plenty capable with up to 664 horsepower and GM's multi-function tailgate.
GM also brought their luxury EVs, with a chance to drive (down a blue carpeted hallway) the Cadillac Lyriq EV. The new Buick Wildcat EV concept (an oldie but goodie nameplate) was a good bit more conservative than the Lincoln L100, a fact that makes it even more likely we could see this concept make it to production.
Toyota/Lexus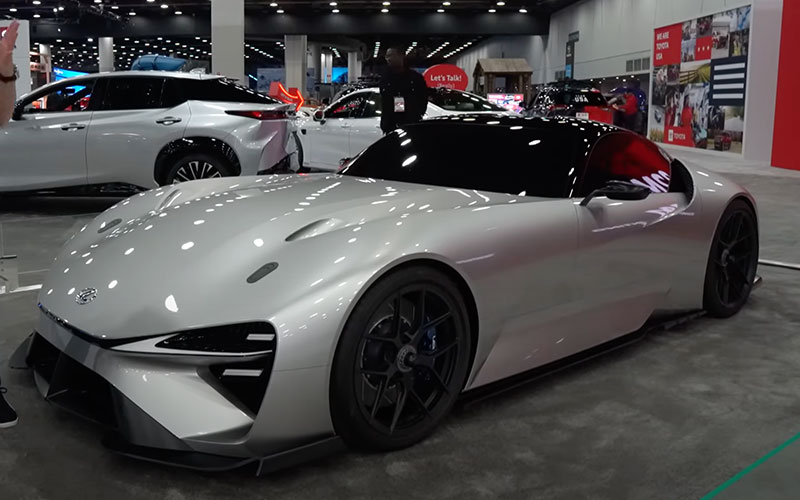 Like most of the other companies at the Detroit Auto Show, Toyota/Lexus did not wait for a major car show to unveil their electrification plans. Toyota revealed theirs this past summer, which you can read about here. However, Lexus did have one of their EV concepts on-hand, an LFA-inspired sport coupe revealed last winter and targeted as a direct competitor to the Tesla Model S. Despite being all-electric, the concept car features an exaggeratedly long hood that gives it shades of the Tim Burton Batmobile. It certainly looks fast, and with the target of a two-second zero to sixty run, it almost certainly will be.
Harbinger Delivery Van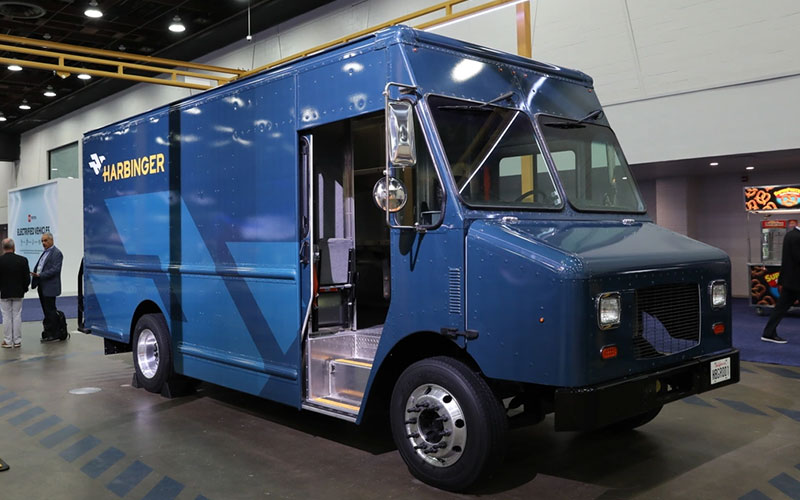 Haven't heard of Harbinger? Wondering why a regular old delivery van was being showcased at the Detroit Auto Show? Because this normal-looking delivery van is, you guessed it, all electric. The new EV start up is targeting their new EV skateboard platform as the answer to the yet underserved niche of medium-size trucks (Classes 4 through 7). Depending on configuration, Harbinger's trucks will have a range of about 125 miles, more than enough for most urban-focused fleet vehicles.